Prev Story
Next Story
The Report
The United Nations Global Compact's 'Just Transition and Renewable Energy – A Business Brief' sets the stage for companies by explaining the foundation and significance of 'just transition.'
This Business Brief on Just Transition is a principle-based approach that aims to ensure an orderly, inclusive, and fair shift towards net-zero emissions and climate resilience. It recognises the need to create work opportunities and ensure that no one is left behind in the transition from fossil fuel-driven energy system to one based on renewable energy sources. Achieving a just transition requires engaging in social dialogue and stakeholder engagement, respecting fundamental labour rights and other human rights.
It emphasises the importance of simultaneously addressing the environmental, social, and economic dimensions of sustainable development, with a particular focus on skill development as a catalyst for sustainable and inclusive economic growth and development.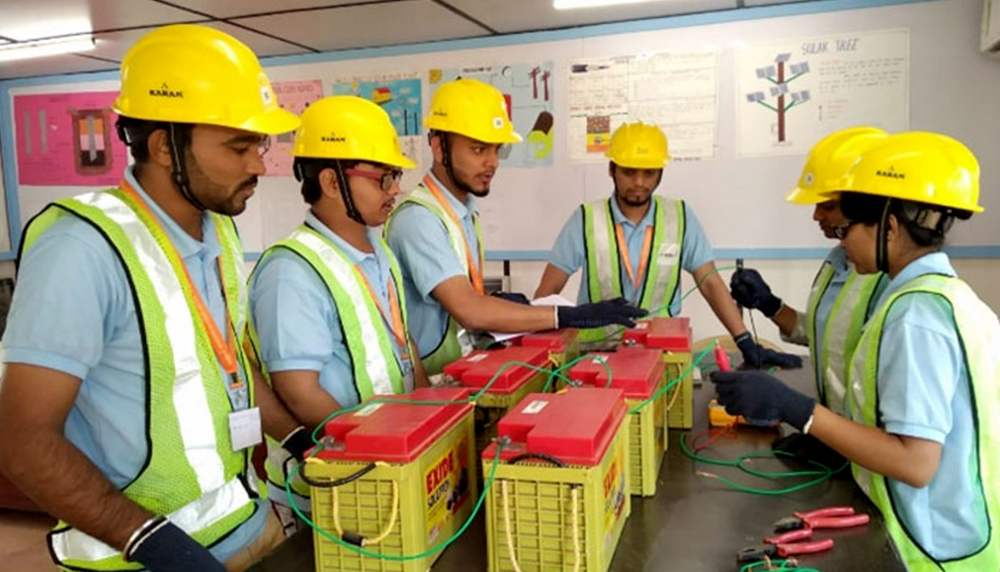 Mahindra Susten's pioneering role
Mahindra Susten's work in skill development was featured as a corporate example in the report's section titled, 'Building a New Norm.'
Mahindra Susten is actively involved in equipping individuals with the necessary expertise to facilitate the transition towards renewable energy. Alongside this commitment, the company is dedicated to providing support to socio-economically disadvantaged communities. This objective is exemplified by the establishment of their training and skilling centre in Karjat.
The centre in Karjat serves as a shining example of Mahindra Susten's efforts. It focuses on cultivating technical skills specifically related to solar photovoltaic (PV) systems, addressing the prevailing shortage of expertise in the industry. Moreover, the centre plays a pivotal role in empowering women and youth by helping them secure sustainable employment opportunities.
Impressively, the Karjat centre has already trained over 4,500 technicians in comprehensive trade skills, including 140 women. Additionally, it has provided training to more than 10,000 individuals in semi-skilled trades. The centre has also supported the establishment of eight solar industry entrepreneurs, contributing to the growth and diversification of the sector. Mahindra Susten actively endeavours to enhance female participation in these training initiatives, striving for greater gender equality in the field.
In 2022, Mahindra Group entered a strategic partnership with the Ontario Teachers' Pension Plan Board, which now has a 30% equity stake in Mahindra Susten.
As a result, the company will strengthen its renewable energy business focused on solar energy, hybrid energy, integrated energy storage and round-the-clock ("RTC") green energy plants.

Enjoyed this story?
Hit the
Like
button to let us know!
You can also share your thoughts in the
Comments
section below!
On National Engineers' Day (September 15), celebrating innovation and sustainability, which engineering challenge do you think is most important to address worldwide?