Prev Story
Next Story
A blueprint
Tech Mahindra has teamed up with EarthID, a leading provider of Self-Sovereign Identity (SSI) solutions, to establish an innovative foundation for the metaverse.
SSIs are digital identities focused on verified and authentic credentials linked to real-world verification data, such as biometrics, that are managed in a decentralised manner.
This strategic partnership aims to revolutionise digital experiences by enabling individuals to assert control over their personal data, privacy, and consent in virtual realms.
The need for an SSI-powered metaverse platform
The metaverse, a virtual universe where users can interact and engage with each other through virtual reality, has captured the imagination of millions worldwide. However, the challenge lies in preserving the privacy, security, and authenticity of users' data and identities in this vast digital landscape. That's where Tech Mahindra and EarthID's blueprint for an SSI-powered metaverse platform comes into play.
The platform will enable users and enterprises to protect their metaverse environments from malicious threats such as DDoS (distributed denial-of-service) attacks, data breaches, and phishing attacks.
Additionally, the SSI-powered metaverse will empower enterprises to mitigate security concerns related to stolen identities and sensitive data, which may lead to huge legal and financial losses.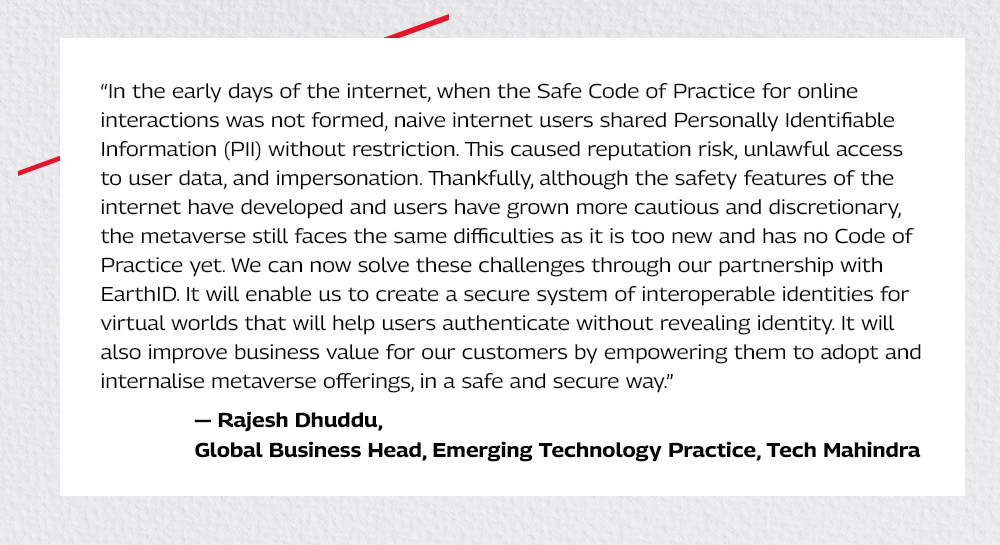 Utilising blockchain
EarthID is an award-winning Decentralised Identity Management platform that allows secure and frictionless exchange and verification of identity information.
Tech Mahindra will integrate EarthID's blockchain-based decentralised identification capabilities into its new SSI-powered metaverse platform, making it secure for users and enterprises.
By utilising blockchain technology and zero-knowledge proofs, users can self-manage their digital identities without depending on third parties to centrally store and manage their data.
Priya Guliani, CEO of EarthID, said, "The advent of the metaverse has posed a challenge to organisations to provide a seamless, frictionless, and secure experience that attracts and retains customers. EarthID offers a user-centric, decentralised identity platform that is easily integrable, interoperable, and reusable across various metaverses. Our partnership with Tech Mahindra will enable our enterprise clients to create immersive and secure experiences for their customers, employees, and partners, improving stakeholder engagement and brand loyalty."
Tech Mahindra and EarthID's strategic collaboration will pave the way for a paradigm shift in digital experiences.
Enjoyed this story?
Hit the
Like
button to let us know!
You can also share your thoughts in the
Comments
section below!
How can workplaces be more inclusive of the LGBTQ+ community?