Prev Story
Next Story
World Environment Day is held on on June 5 every year, and the theme for this year was 'Only One Earth', focusing on living sustainably and in harmony with nature. The United Nations established World Environment Day in 1972 at the Stockholm Conference on the Human Environment.
The Mahindra Group has a strong heritage of championing sustainable business practices. The Group's responsibility towards the environment remains one of its top priorities across all its businesses and other initiatives. Mahindra has been undertaking tree plantation drives under Project Hariyali since 2007 with the aim to increase the forest cover, arrest rising ecological imbalance and create an environmentally conscious and aware citizenry. The initiative stems from the Group's core philosophy of 'driving a positive change' in the lives of the employees and stakeholders.
Plantation drives - Seeds were sent to various locations that had put up a request.
Volunteers and eco-warriors were asked to share their stories of conserving the environment, recycling/upcycling projects, the art they have created of trash etc., on social media by tagging the Mahindra Rise handles (Twitter, Facebook, Instagram, LinkedIn).
Employees were encouraged to make paper bags from the available materials at home. These were then donated to an NGO based in the same location.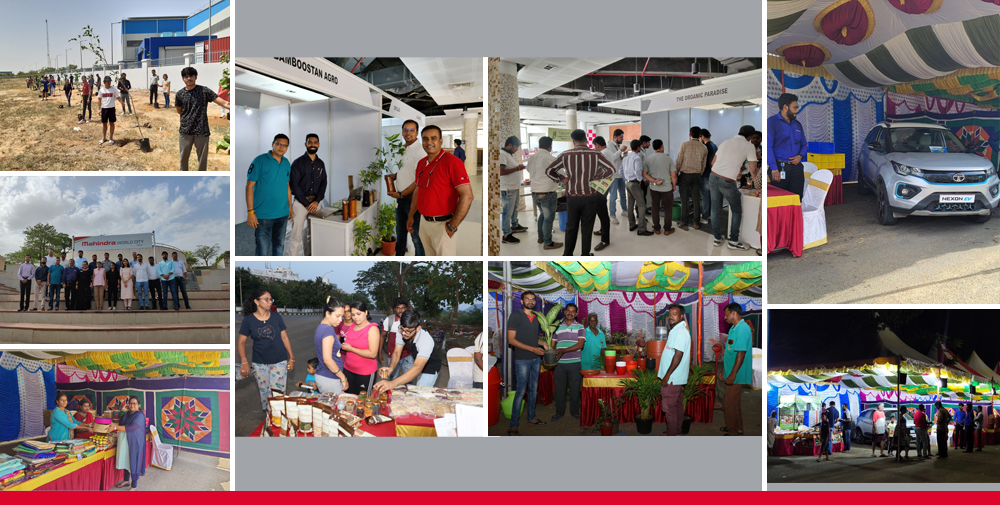 Experiments on sustainability and environmental activities for kids
Volunteers created manuals and guides in the form of presentations, e-posters, documents, videos, podcasts etc., for NGOs to promote in their communities and beneficiary groups. The objective is to adopt eco-friendly lifestyle choices by reducing, recycling, and reusing waste to eliminate single-use plastic.
ConnectFor shared the content received from the volunteers in the form of a digital library with its partner NGOs.
Carbon Footprint with Kids
Volunteers explained carbon footprint to the beneficiaries through a creative exercise. There was a discussion on how we can have a smaller carbon footprint where kids and volunteers brainstormed on the alternative environmentally friendlier choices.
On the day of the activity, there were two volunteers – Mridula from Bristlecone and Anil from Mahindra Logistics who were present for the engagement.
The volunteers took it up as a challenge and interacted with the bunch right after they were briefed about the activity. Throughout the session, they handled the scenario in an organised manner where they interacted and engaged with all the students. By the end of the session, the students thanked the volunteers for making them a part of it.
Twitter Spaces Live session with Chirayu Desai
Living the ultimate sustainability dream, we had our colleague, Chirayu Desai, who explained how to live a zero-waste life.
There were also eco-melas, which were set up across various Mahindra locations.
Enjoyed this story?
Hit the
Like
button to let us know!
You can also share your thoughts in the
Comments
section below!