Prev Story
Next Story
Chirayu Desai has been working at Mahindra for nine years in the Farm Machinery business, which strives to empower farmers with the best tech practices. He is also an eco-warrior, an avid nature lover and a musician. Chirayu has been living the zero-waste lifestyle for over four years now.
He has always been mindful and conscious of using resources since his childhood, as his parents were when he was young. This has made him realise that his children will learn from him as he did from his parents.
Beach clean-up
His turning point to being more proactive in his conservation efforts was when he joined Afroz Shah (the United Nations Champions of the Earth in 2016) for a beach clean-up. According to Chirayu, 30% of the plastic waste emanates from households, which means 1/3rd of the world's plastic problem can be solved if we take the correct measures.
What is a zero-waste lifestyle?
The zero-waste lifestyle stems from the idea that no waste from the house should reach outside the household premises from food discards to plastic waste. It implies that the waste is mindfully and systematically disposed of at the end of its lifecycle. The zero-waste lifestyle is about being mindful of the process of waste generation and disposal.
Eliminating plastic from the supply chain
Chirayu has eliminated plastic usage by getting milk delivered to him in reusable containers. He has invested in different containers for purchasing groceries, fish, meat and dairy.
Find out Chirayu's other measures to curb and dispose of waste in the recorded Twitter Spaces session below.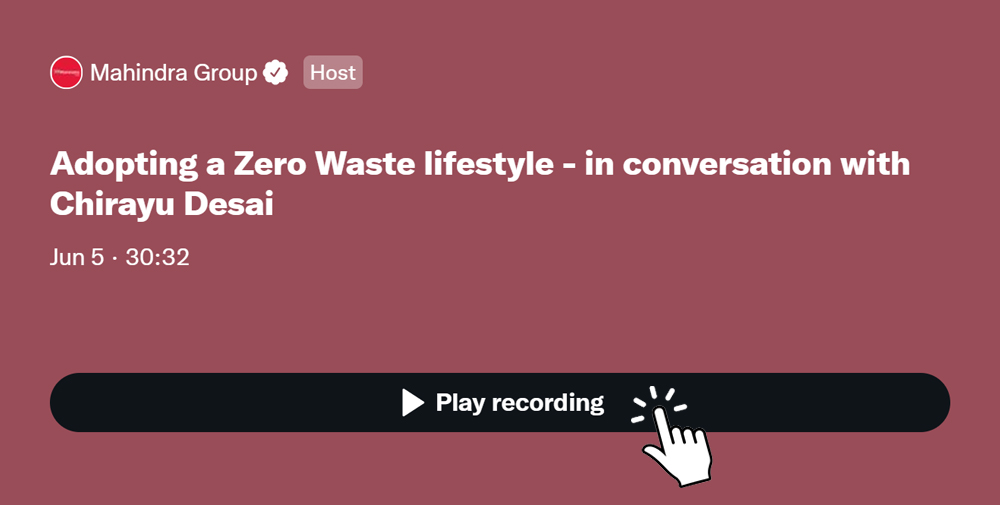 Enjoyed this story?
Hit the
Like
button to let us know!
You can also share your thoughts in the
Comments
section below!