Prev Story
Next Story
Over the past years, Mahindra Eden has distinguished itself as an exemplary real estate company. And this is because their residential projects not only aim to shape the urban landscape but also provide a means to a better and purpose-driven lifestyle. In a recent article published in The Week magazine, we look at how Mahindra Eden is contributes to sustainable living. Mahindra Eden seeks to provide not just a comfortable and luxurious lifestyle but also incorporates sustainable practices. In fact, Mahindra Eden contributes to six of the 17 UN Sustainable Development Goals (UN SDG) on Clean Water and Sanitation (SGD 6), Affordable and Clean Energy (SDG 7), Sustainable Cities and Communities (SDG 11), Responsible Consumption and Production (SDG 12), Climate Action (SDG 13), and Life on Land (SDG 15).
In recent years, Bengaluru has witnessed an unprecedented explosion in population by 1,028% from 1973 to 2017. This has resulted in a decrease in 88% of its green cover. Along with this, there has been a 79% decrease in the water tables within the city. The temperature rise has also increased from 2° C to 2.50° C and the city has been experiencing occasional floods. Though these environmental consequences cannot be reversed, you could help in your way in mitigating these environmental impacts by opting to live sustainably.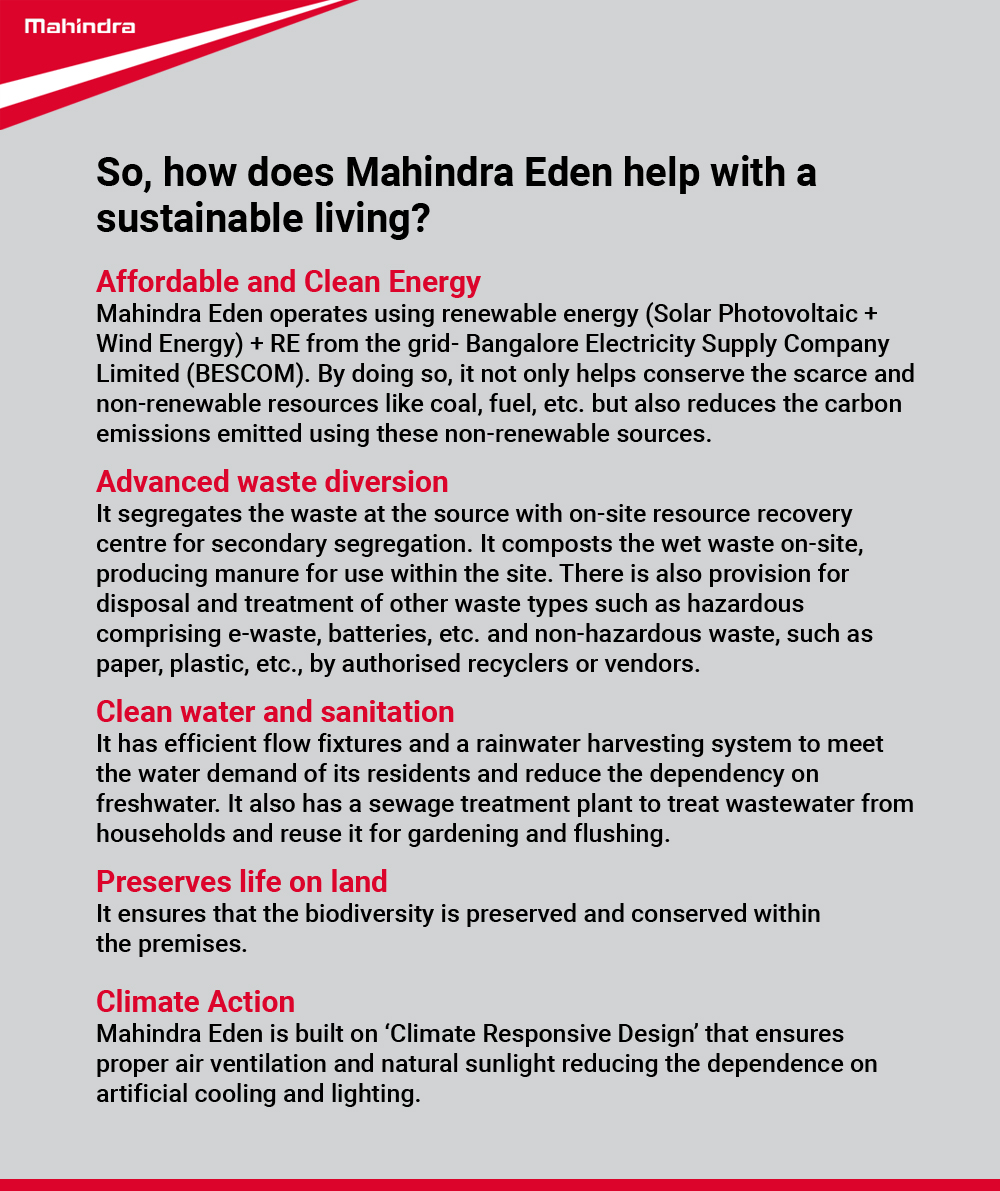 Want to join the Net Zero revolution? Book your house in Mahindra Eden right away!
Enjoyed this story?
Hit the
Like
button to let us know!
You can also share your thoughts in the
Comments
section below!