Prev Story
Next Story
Mahindra Lifespace Developers Limited has unveiled its new brand promise of 'Crafting Life'. Centred on the insight of how well-designed spaces can be a true enabler of health, holistic well-being and success, Mahindra Lifespaces' new brand promise highlights the many ways that the built environment can ensure improved outcomes for individuals, families, and businesses. With this new campaign, Mahindra Lifespaces is all set to redefine real estate as a category through climate-responsive design; thriving, supportive communities; thoughtfully curated features and amenities; and transparent and hassle-free consumer experiences.
Be it for residential, commercial or industrial purposes, the spaces surrounding us actively contribute to achieving our goals and aspirations. These spaces serve as partners in our personal and professional growth journeys, even as they provide an enabling environment to build lasting networks and relationships. Mahindra Lifespaces takes a long-term view of the design and development of its projects and is committed to crafting spaces that will positively influence life outcomes for generations to come. It does so by creating environment-friendly, self-contained developments replete with category-defining features and amenities, ready services for end-use, and strategic alliances (with partners in healthcare, education, etc.) for ease of living and working.
Established in 1994, Mahindra Lifespaces brings the Mahindra Group's philosophy of 'Rise' to India's real estate and infrastructure industry through thriving residential communities and enabling business ecosystems. The company's development footprint spans 27.4 million sq. ft. (2.5 million sq. m.) of completed, ongoing and forthcoming residential projects across seven Indian cities; and over 5,000 acres of ongoing and forthcoming projects under development/management at its integrated developments/industrial clusters across four locations.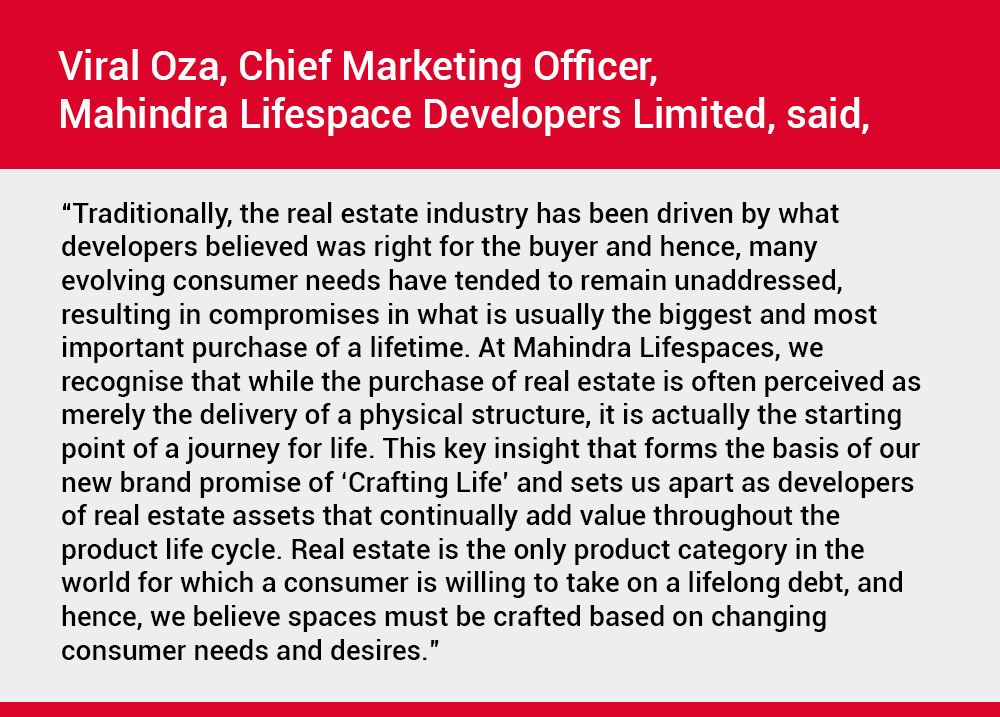 Mahindra Lifespaces' new brand promise manifests itself across all the company's business segments, including:
Premium residential projects
Value homes under the 'Mahindra Happinest' brand
Integrated cities and industrial clusters under the 'Mahindra World City' and 'Origins by Mahindra' brands respectively
As part of its latest campaign, Mahindra Lifespaces has launched a digital video commercial that brings to life the myriad ways in which the built environment today serves multiple purposes - as a support system, a springboard to a better life and an enabler of ease of doing business.
Have you seen the digital video commercial yet? Share what you liked best about it.
Enjoyed this story?
Hit the
Like
button to let us know!
You can also share your thoughts in the
Comments
section below!
On National Engineers' Day (September 15), celebrating innovation and sustainability, which engineering challenge do you think is most important to address worldwide?