Prev Story
Next Story
Preetham experienced vision loss at an early age but was fortunate to pursue a good education from mainstream institutions. He belongs to the Business Transformation team at M&M Ltd. He recalls, "When I was completing my MBA, I wanted to join an organisation that would value my capabilities and give me opportunities to learn and explore my interests in building a great customer experience. Mahindra's GMC program felt like the right fit."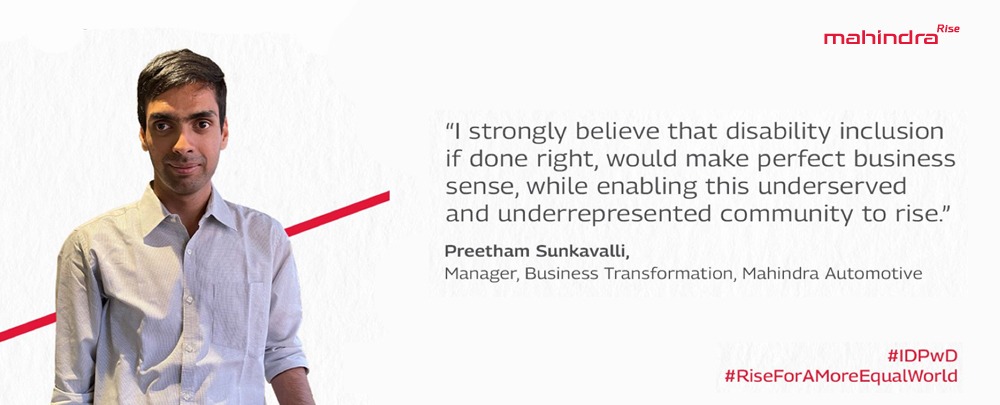 Joining the Automotive business
He expressed an interest in the Automotive business during the hiring process, but was earlier made to believe that working in Automotive could be challenging, owing to his disability. However, the senior leaders at Mahindra backed his passion, and he landed his first stint as an area sales manager. "I learned everything here from independently visiting dealers to mystery shopping to even cold-calling customers. It has been the most challenging and rewarding phase of my career so far," he says.
A roadmap for the electric future
As part of the Business Transformation team at Mahindra's Automotive Division, Preetham is currently working to develop a charging ecosystem for the customers of Mahindra's first electric SUV. "It is thrilling to build capabilities, processes, and partnerships that ensure a world-class charging experience," he says. "Throughout everything I do at work, my team has been my best support system and the first line of defence. They are the ones who plug the gaps in accessibility and inclusion to ensure that I'm motivated and productive all the time," he adds.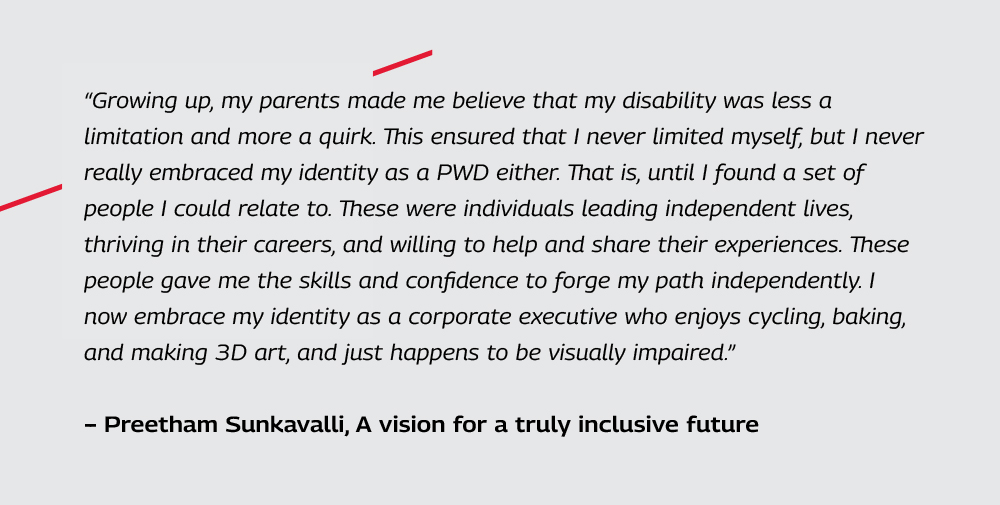 The majority of PWDs (People with Disabilities) in India and around the world are not as privileged, Pritham says. That's over a billion people, every single one with unique capabilities and needs.
"Companies should invest in understanding and catering to their unique requirements, both as customers and as potential employees. Disability inclusion, if done right, would make perfect business sense while enabling this underserved and underrepresented community to Rise," he concludes.
Enjoyed this story?
Hit the
Like
button to let us know!
You can also share your thoughts in the
Comments
section below!
On National Engineers' Day (September 15), celebrating innovation and sustainability, which engineering challenge do you think is most important to address worldwide?