Prev Story
Next Story
The Board of Directors of Mahindra & Mahindra approved the financial results for the quarter and half year ended September 30, 2021, of the Company and the consolidated Mahindra Group. Overall, the company achieved a 15 percent increase in revenue while the consolidated revenue increased by 12 percent.
Highlights of the financial results include M&M operating at a margin of 12.5 percent despite rising commodity prices and shortage of semi-conductors; strong growth in export volumes – 86 percent in the Auto Business (compared to Q2 FY2021) and 105 percent in the Farm Business (highest ever in H1); strong recovery across group companies including Mahindra Finance NPA; and one of our new age digital platforms – Porter – receiving valuation of Rs. 3,750 crore with an external funding round of Rs. 750 crore.
"We have seen significant all-around improvement in our performance this quarter. Our strong show in the Auto and Farm sectors was complemented well by the improved performance in the group companies. Our investments in digital platforms are doing well and present a meaningful opportunity to create and unlock value."
Dr. Anish Shah, Managing Director & CEO, M&M Ltd.
Auto Business
Sector-wise, the Auto Business continues to maintain a very healthy booking pipeline and buoyant demand for its key products with 160,000+ bookings overall. The XUV700 launch received an overwhelming response with 50,000 bookings in three hours and 70,000+ to date. The three-wheeler Electric Vehicles volume increased by 318 percent compared to Q2 FY2021, capturing a 68 percent market share. Global shortage of semi-conductors has impacted production and sales for another quarter. However, stringent cost control measures have helped partially mitigate margin impact of commodity price increase.
"Commodity prices have impacted our margins in both the Auto and Farm business, but our focus on cost management and optimisation has helped mitigate some of the impact."
Manoj Bhat, Group Chief Financial Officer, M&M Ltd.
Farm Business
The Farm Business delivered an excellent performance as well, with a second highest quarter in terms of PBIT, domestic and exports volume. In the Farm Equipment Sector (FES), tractor market share increased by 1.9 percent to 40.1 percent compared to FY2021. Yuvo Tech+ tractors were launched in 35, 39 and 42 HP range, powered by an advanced three-cylinder mZIP engine, offering best-in-class ergonomics, high precision lift capacity (up to 1700 kgs) and warranty of six years.
Farm Subsidiaries recorded a fifth consecutive quarter of positive PBIT; second quarter over Rs. 100 crore.
"FES continued to deliver robust performance both in terms of market share and financial metrics despite steep commodity inflation. We had a blockbuster XUV7OO launch, witnessing bookings of more than 70k. The demand for our other key automotive products also remains strong. With better availability of semi-conductors, we hope to maintain the volume growth momentum Q3 onwards. We are poised well to deliver very strong growth and returns through an exciting new product portfolio."
Rajesh Jejurikar, Executive Director, M&M Ltd.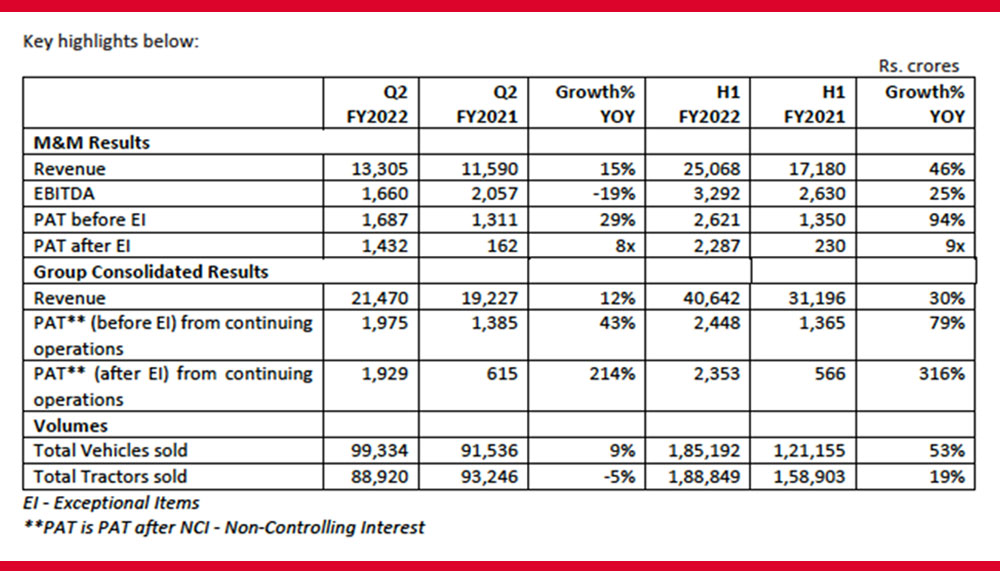 Enjoyed this story?
Hit the
Like
button to let us know!
You can also share your thoughts in the
Comments
section below!