Prev Story
Next Story
June has been a busy month for Mahindra employees — over the last couple of weeks, nearly 200 of them came together to volunteer virtually to make a difference and to drive positive change.
The first activity — COVID Helpline Warrior — saw employees based out of Karnataka help create awareness and educate underprivileged citizens on Covid-19, how to follow safety guidelines and adopt precautionary measures, and bust myths on vaccinations, among other things. Over phone calls, the volunteers connected with 140 beneficiary families from rural locations in the state, heard their take on certain issues and spoke about Covid-appropriate behaviour and safety. The two-hour-long activity was held in association with not-for-profit partners, ConnectFor and the ArtSparks Foundation, who have been working with school children for the past few years.
The second virtual volunteering engagement, Be the Change, To See the Change, was held on June 12, 2021, on the heels of World Environment Day. The activity aimed to celebrate the Mahindra Group's commitment to protect and preserve the environment. During the two-hour-long session, volunteers were taught how to conserve nature, and the various solutions and methods in which one could be environmentally conscious were also discussed. There were also some activities for the volunteers such as recycling old t-shirts into eco-friendly bags and creating e-posters to generate awareness among the public. Not-for-profit partners, ConnectFor and WhyWaste, helped organise this engagement.
Both these sessions received highly positive feedback from the employee volunteers, and everyone was unanimous in expressing their happiness at having made a positive impact. Employees from across the Mahindra Group have contributed nearly 400 person-hours towards community service, from the comfort of their homes, due to these virtual volunteering activities.
The Group has rolled out virtual volunteering for all its employees, and the opportunities can be accessed by visiting www.connectfor.org.
Note: The Mahindra Group has pledged to give back 750,000 hours of service to the community in the 75th year. The Top 75 volunteers clocking in maximum hours during the 75th year would be recognised with special memorabilia.
Which virtual volunteering opportunity are you signing up for today? Let us know in the comments section below.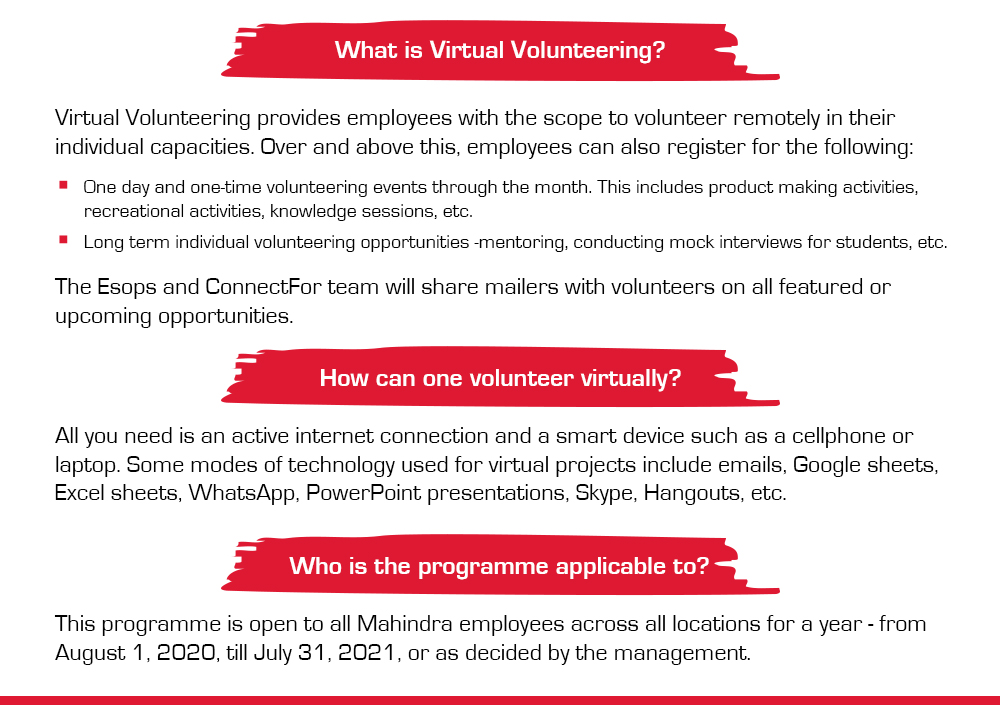 Enjoyed this story?
Hit the
Like
button to let us know!
You can also share your thoughts in the
Comments
section below!