Prev Story
Next Story
Did you know that despite being the world's second-largest potato farming nation, India lags in yield per acre, producing only 8.5 tonnes per acre? The reason-- the lack of appropriate farm machinery and traditional potato planting methods which have resulted in low yields. However, that is all set to change.
Mahindra & Mahindra Ltd.'s Farm Equipment Sector (FES) has launched the all-new advanced precision potato planting machinery called PlantingMaster Potato +. This machine will initially be available in Punjab, Uttar Pradesh (UP) and Gujarat, the key potato markets of India. "We need advanced farm machinery to drive up yield and improve quality," said Mr. Hemant Sikka, President, FES. "With the PlantingMaster Potato + we are bringing this technology to Indian farmers," he added.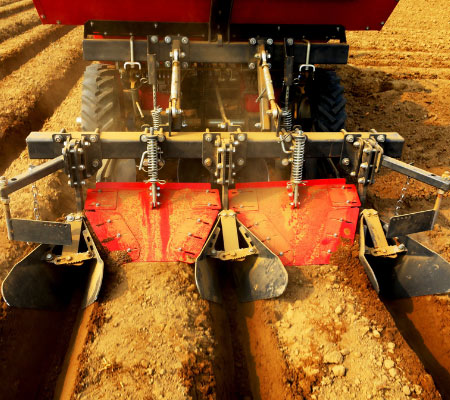 Designed and developed in collaboration with Belgium-based Dewulf, a global leader in potato machinery and Mahindra & Mahindra's partner based in Europe, the PlantingMaster Potato + is uniquely suited to Indian farming conditions. The new technology was piloted in Punjab in 2019 and resulted in a 20-25% increase in yields over traditional methods.
The PlantingMaster Potato + ensures a high level of accuracy in planting potatoes, ensuring uniform depth and seed-to-seed distance. Ridges created over planted potatoes have the right level of soil compaction, ensuring enough water, sunlight, and space to grow for the plants resulting in better crop quality and increased yields.
The PlantingMaster Potato + will be available for sale in Punjab and UP, and for rent in both UP and Gujarat through Mahindra's rental entrepreneur network. "We are offering easy finance and rental options to make this new technology accessible to Indian farmers," said Mr. Sikka. As always, the purchases are backed by a one-year manufacturing warranty and easy access to spares and service through Mahindra dealerships.
Take a look at the ingenious mechanism that allows perfect potato plantation every single time:
Enjoyed this story?
Hit the
Like
button to let us know!
You can also share your thoughts in the
Comments
section below!