Prev Story
Next Story
'Leadership is the capacity to translate vision into reality' –this axiom is an apt summary of Mahindra Group Chairman Anand Mahindra's leadership and business acumen. Mr. Mahindra was recently honoured with the US-India Strategic Partnership Forum's (USISPF) 2020 Leadership Award for his exemplary vision in promoting bilateral ties between the US and India.
The award was conferred on Mr. Mahindra during the USPSIF's third Annual Leadership Summit titled "US-India Week: Navigating New Challenges", convened virtually in Washington DC from August 31 – September 3, 2020. Dedicating the award to his colleagues, Mr. Mahindra said, "Thanks to their spirit of enterprise, we have seven businesses in the US."
USISPF, a non-profit organisation, plays a significant role in fostering a robust and dynamic relationship between the US and India to drive economic growth, entrepreneurship, innovation, and employment growth. Each year, the USISPF recognises two business leaders who have displayed leadership and ambition in strengthening the US-India bilateral economic partnership. This year, Shantanu Narayen, Chairman & CEO, Adobe, also received the award along with Mr. Mahindra.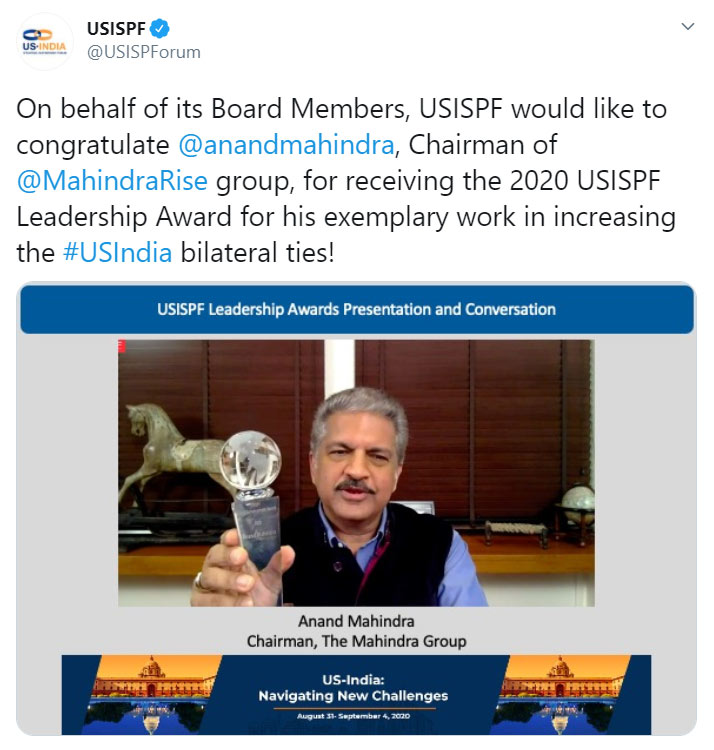 The Mahindra Group has been present in the US for over 25 years through partnerships with several US corporations including American Motors, Chrysler, International Harvester Company of Chicago, Otis Elevators and Ford among others. The Group's US investments total more than one billion dollars, and the businesses continue to expand in both urban and rural areas. If the Mahindra Group is seen as contributing to US-India business ties, said Mr Mahindra, the honour belongs to his colleagues, "and it is on their behalf that I accept this award."
The week-long summit included a range of strategic discussions between the USISPF's board members that includes 21 Fortune 500 CEOs and senior government officials from both countries. The summit highlighted areas of bilateral co-operation including trade and investment relations; strategic energy ties; India's position in global supply chains; collaborations in fintech, healthcare, and technology; building a fair tax regime to attract FDIs, etc. It also hosted a public discussion between Dr Anish Shah, Deputy Managing Director, Mahindra Group, and Joseph Semsar, US Deputy Under Secretary for International Trade.
Enjoyed this story?
Hit the
Like
button to let us know!
You can also share your thoughts in the
Comments
section below!