Prev Story
Next Story
The government unveiled an INR 20tn package over the past week. Guarantees to the tune of INR 3tn for MSME loans and INR 0.75tn for NBFC borrowings were announced. These off-balance sheet measures along with liquidity measures announced earlier by the RBI will definitely perk up sentiment and put a floor under GDP growth, which now could end up being closer to zero percent rather than in the deep negative, subject to the caveats of the reopening of the economy and no-second wave of infections.
The agri-related announcements including funds for strengthening farm-gate infrastructure, food micro-enterprises and dairy, marketing reforms and contract farming will bring in a delta to growth in future. The overall package should be viewed as beneficial over the medium-term, with the government seeking to bring in more private investment into sectors such as mining, coal, airports, social infrastructure and power, by removing the excessive constraints that exist today across sectors.
The package is also in sync with the government's broader philosophy of empowerment as against encouraging or creating more entitlements. The only thing being freely distributed is food. That not only addresses the survival issue of the poor, but also rids the government of huge food grain stocks which have a huge carrying cost. The package also tries to cover all the vulnerable sections of society, including migrant workers, the urban poor, street vendors, small borrowers, small & marginal farmers, senior citizens and widows.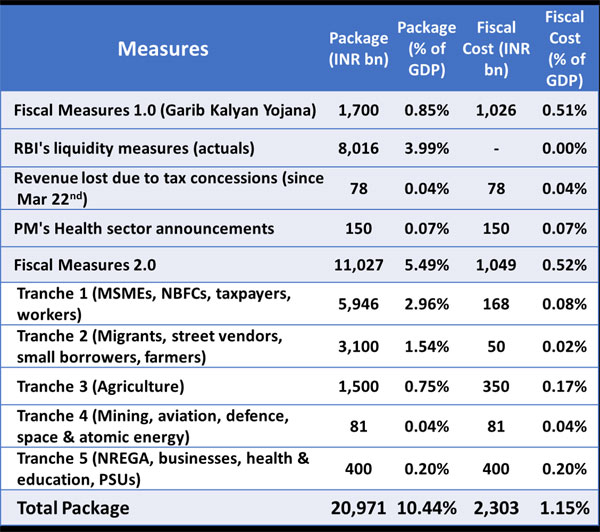 The government has also allocated an additional INR 400bn to MGNREGA, doubling the FY-21 spending amount to INR 800bn, and also raised daily wages under the scheme by ~11%. This is a prudent measure that will provide employment opportunities to workers who have migrated to their villages in the short-term. However, this could also prevent migrant labour from returning to work in semi-urban and urban areas.
The government has packaged the relief measures quite deftly with the actual hit on the fiscal deficit at just INR 2.3tn (or 1.15% of GDP) as against the headline figure of INR 20tn (10% of GDP). This should buy it peace with the rating agencies for now at least. Finally, while there is criticism that the actual spending is just a fraction of the package, what really matters is not how big any announced number is, but whether governments and central banks are prepared to offer an open-ended commitment to do whatever it takes to put a floor under economic activity.
Enjoyed this story?
Hit the
Like
button to let us know!
You can also share your thoughts in the
Comments
section below!