Prev Story
Next Story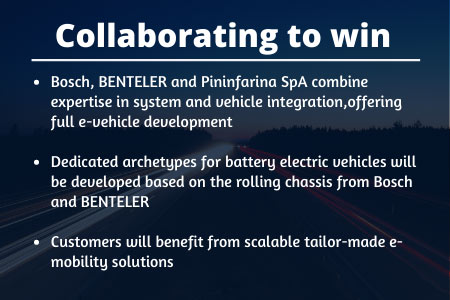 Pininfarina, Bosch and Benteler are forming a strategic collaboration to provide car manufacturers with new modular electric vehicle platforms also known as 'skateboards'. This collaboration will enable the companies to offer car manufacturers fast prototyping as well as complete vehicle and product development services right up to the start of production.
The prototyping is based on a proven rolling chassis solution from Bosch and Benteler. It provides predefined design, is fully functional and immediately applicable for the development of electric vehicles. This results in considerable time and money saving for the customers and enables them to speed up their time-to-market.
Pininfarina, the globally renowned Italian car designer and engineering provider, will work with its two partners to complement their existing collaboration for the rolling chassis. This comprises the fields of styling and 'top-hat' engineering for an optimized link to the car body.
Driven by electric drivetrain megatrends, car manufacturers are increasingly seeking pre-validated system solutions that offer an easy and reliable way to build new electric vehicles from scratch.
Pininfarina, with its 90 years of expertise in the automotive industry, will provide top hat unique style and engineering, successfully integrating the upper body structure with the chassis. Thanks to its expertise as vehicle integrator, Pininfarina owns the knowhow for successfully integrating the single components into the car, in accordance with installation and functionality requirements, and to deliver the right Advanced Driver Auxiliary System integration achieving state-of-the-art performances during driving and parking.
Enjoyed this story?
Hit the
Like
button to let us know!
You can also share your thoughts in the
Comments
section below!
On National Engineers' Day (September 15), celebrating innovation and sustainability, which engineering challenge do you think is most important to address worldwide?