Prev Story
Next Story
The global pandemic and subsequent lockdown have put an abrupt halt to all our travel plans for quite some time, but the excitement of exploring new vistas hasn't quite disappeared. We are all yearning to pack our bags and get on the next flight to experience the joys of an as-yet unexplored destination.
Club Mahindra, India's leading vacation ownership brand, is tapping into this well of desire. Through their 'India Dekho' initiative, a part of their #LoveIndiaSeeIndia digital campaign, they are seeking to reignite this passion and zest for travelling.
"All of us have fond memories of our favourite travel destinations and experiences," says Ramin Saherwala, Chief Marketing Officer, Mahindra Holidays and Resorts India Limited. "It is during these times that there's a nostalgia about them," he adds.
Club Mahindra, which offers access to over 100 resorts in India and abroad, with over 200 immersive experiences, is calling upon people to share their favourite holiday destinations and memories. With Ayushmann Khurrana, one of Bollywood's most popular artistes, as the face and voice of the campaign, Club Mahindra is striving to inspire people to relive those magical memories, even when they are stuck indoors.
A digital film titled 'Mai Phir Aunga' (I Shall Return Again) has Ayushmann sharing an evocative message in which he professes his love for India, its myriad cultures, mesmerising experiences and mouth-watering cuisines. The actor, who's famous for his poignant verses and couplets online, asks the winds to carry his promise to return – to all the places he's been.
"The film builds a resonance with the audience," says Mr Saherwala, "and evokes a strong desire to relive their travel memories and recreate magical moments with their loved ones." The video also calls upon viewers to tag Club Mahindra in their responses – giving them a chance to win an amazing surprise, courtesy Club Mahindra.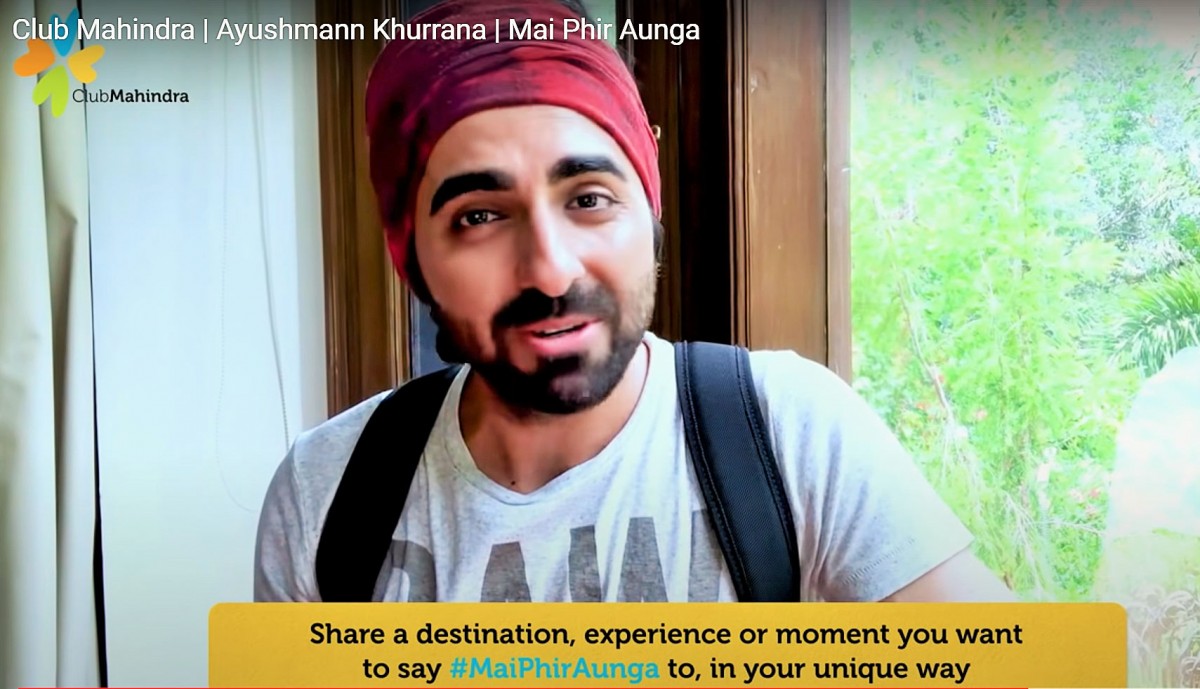 When the country steadily emerges from the lockdown, Club Mahindra is evolving their resort experiences to prioritise the safety and well-being of its members and staff, while also ensuring that they exude the same warmth and service in delivering the signature 'Club Mahindra' experience.
#MaiPhirAunga Click here to listen to Ayushmann give voice to every Indian's heart that wants to explore and rediscover India.
Enjoyed this story?
Hit the
Like
button to let us know!
You can also share your thoughts in the
Comments
section below!