Prev Story
Next Story
Mahindra World City Jaipur Limited (MWC Jaipur), a joint venture between Mahindra Lifespace Developers Limited (MLDL) and Rajasthan State Industrial Development and Investment Corporation (RIICO), continues to expand and add new partners. Four new clients – Programmers.io, Vitromed Healthcare, Bansal Oil Mill Ltd and Bhagwati Group – are investing to establish new facilities / expand existing operations at MWC Jaipur. The total land leased is 15.7 acre.
MWC Jaipur is the chosen destination for these MSME clients due to its strategic location, ready plug-and-play infrastructure, along with an established ecosystem enabling the ease of doing business in their operations. This ensures faster time-to-market for all its industrial clients.
Commenting on the development, Sanjay Srivastava, Business Head – Mahindra World City, Jaipur and Director – ORIGINS, said, "Our integrated industrial ecosystem offered business continuity and safe restart for all operational clients during the pre and post Covid-19 situation. MWC Jaipur is proud to be an enabler of the 'Make in India' and 'Make for India' aspirations of 90+ reputed companies."
MWC ensures a balanced approach between livelihood, living and life - with safety and security at the core. Strategic planning, 360-degree collaboration with stakeholders including government and policymakers, technology innovation, and SOPs enabled safe restart, efficient operations and SCM continuity at MWC Jaipur even during the lockdown.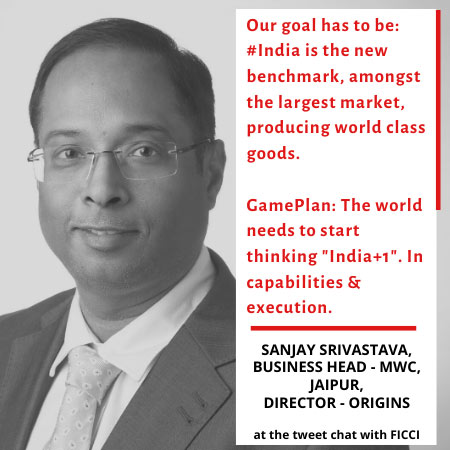 Established in 2006, Mahindra World City, Jaipur is spread across ~3000 acres. It is the preferred business destination for global and domestic companies across diverse sectors, including Bharatiya Skill Development University, JCB, Dev Milk Foods, Deutsche Bank Group, Gaston Engineering, Infosys, KnitPro, Mahindra & Mahindra, Pinnacle Infotech Solutions and TTK Healthcare Limited. As of March 2020, MWC Jaipur has generated cumulative exports worth INR 10,300+ Cr and created direct employment for over 12,500 persons.
Mahindra World City, Jaipur, is the first project in Asia to receive Climate Positive Development Stage 2 Certification from the C40 Cities Climate Leadership Group (C40), a global network of large cities taking action to address climate change.
Enjoyed this story?
Hit the
Like
button to let us know!
You can also share your thoughts in the
Comments
section below!