Prev Story
Next Story
As the coronavirus continues to spread, medical resources around the world are being stretched to the maximum. Equipment like ventilators for COVID-19 patients and protective gear for healthcare professionals are in short supply. Corporates and manufacturers across the globe are scrambling to meet the growing demand for these lifesaving devices.
In India, Mahindra is at the forefront of corporate India's fight against the pandemic. Within 48 hours of Group Chairman Anand Mahindra putting out a tweet, teams at the company's Igatpuri and Mumbai plants had made a working prototype of a ventilator machine.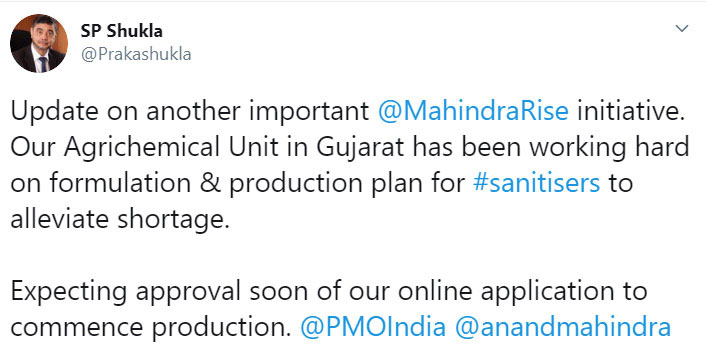 Dr Pawan Goenka, Managing Director, revealed that based upon expert feedback and more research, the teams will develop two more prototypes. Version 2 will see Mahindra's engineering team and two large public sector undertakings (PSUs) work with an existing manufacturer of high spec ventilators to simplify the design and ramp up production. This new prototype will be lighter and more compact than existing models.
The third prototype will be that of an automated version of the Bag Valve Mask Ventilator, commonly known as the Ambu Bag. This could cost as little as Rs. 7,500 compared to the Rs. 5-10 lakh cost of a traditional ventilator. The artificial manual-breathing unit, or ambu bag, is a self-inflating device that is typically used to help patients with breathing problems.
On 31st March, Dr Goenka shared a video of a working model of the low-cost ventilator on Twitter, and announced that testing had begun and that they were waiting for approvals. "This could be a game-changer in quickly providing large numbers of low-cost lifesavers, particularly when ICU ventilators are still scarce," tweeted Mr. Mahindra.
Mahindra's Kandivali plant has begun the manufacture of face shields, based on a design sourced from partner Ford Motor Company. The face shield fully protects the face and eyes from accidental contact with liquids. Paired with N95 respirators, the face shields will be a more effective way to limit exposure to the virus. Initially beginning with 500 masks a day, Mahindra intends to ramp up the production to meet the huge requirements for face shields.
Enjoyed this story?
Hit the
Like
button to let us know!
You can also share your thoughts in the
Comments
section below!