Prev Story
Next Story
Working from home during the lockdown declared in the wake of the coronavirus pandemic can prove to be a huge challenge. The productivity pitfalls of working from home during the COVID-19 pandemic are huge. According to Stanford economist Nicholas Bloom, "The global work-from-home movement intended to maintain output and efficiency during the COVID-19 pandemic could actually generate a worldwide productivity slump and threaten economic growth for many years."
While the Mahindra Group has allowed work from home to comply with the general lockdown orders, it is essential that each one of us continue to contribute optimally so that our productivity remains at par with the pre-corona era.
Towards this end, the Mahindra Leadership University's (MLU) IT Academy has introduced a web-based learning series to ensure optimal productivity. Titled 'Work from Anywhere', the learning series is aimed at helping Mahindra employees learn how to work effectively from anywhere.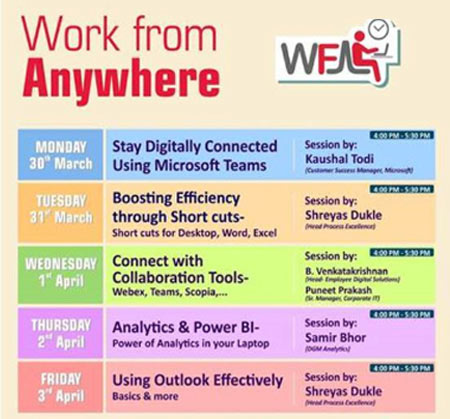 Three webinars in the learning series are scheduled for the first week of April. They are: Connect with Collaboration Tools – Weber, Teams, Scopia, etc., Analytics & Power BI – Power of Analytics in your laptop, and Using Outlook Effectively.
Four webinars – Staying Digitally Connected using Microsoft Teams, Staying Digitally Connected using MeConnect and Genie, Security Dos and Don'ts, and Boosting Efficiency through Short-cuts – were conducted in the last week of March 2020.
All PowerPoint presentations and recordings from the webinars will be available on MLU's Digital Learning World, and accessible to all Mahindra employees.
Enjoyed this story?
Hit the
Like
button to let us know!
You can also share your thoughts in the
Comments
section below!