Prev Story
Next Story
When the going gets tough, the tough get going! The Covid-19 pandemic was one of the most challenging phases of Mahindra Finance's journey. Yet, its people demonstrated a 'Can Do, Will Do' spirit with entrepreneurial zeal, to make the business come up stronger and better than before. Read how Mahindra Finance created an 'impact'ful business…
A crisis like never before
Covid-19 brought about unprecedented changes to the business:
15.46% gross stage 3 (loans overdue for over 90 days) in Q1 F22, a lifetime highest for the company
Mounting losses
7% of employees tested positive
40% of working days were available
40% of branches were shut during the peak of the pandemic
This pandemic raised fundamental questions:
Was the business model sustainable, going forward?
Will core consumers in the taxi, tourist, transportation, and school bus segments stay viable in the near term?
Will cash-based collection work in the 'new normal'?
Will vehicle repossession be possible given the restrictive operating conditions?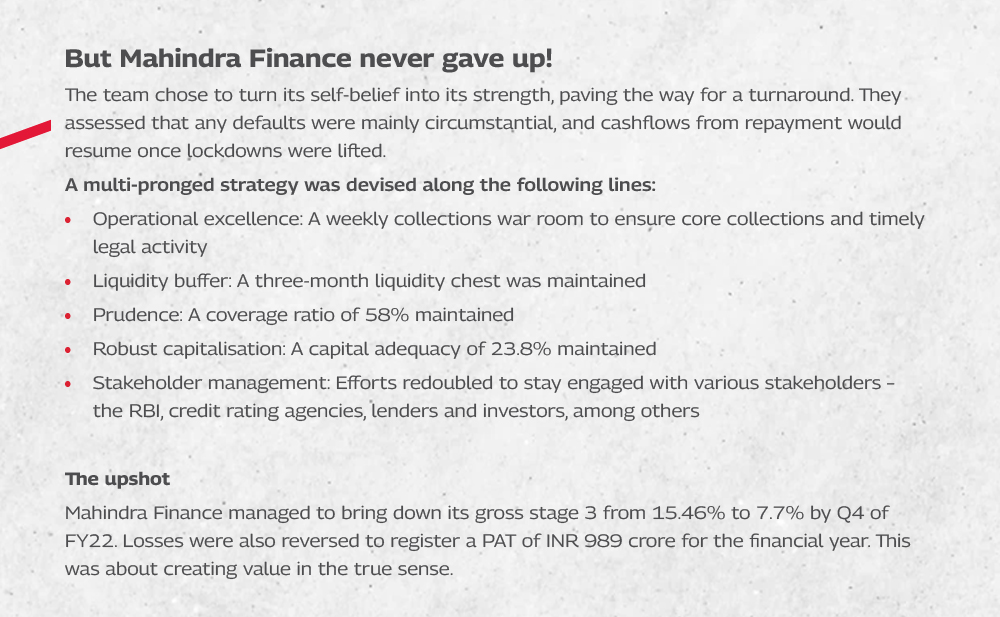 "The company has been able to report a satisfactory top-line and bottom-line performance on the back of growth in asset book and control on asset quality. We look forward to this momentum to continue in subsequent quarters."  Ramesh Iyer, Vice-Chairman & Managing Director, Mahindra Finance
Lessons learnt
Sharply define the problem and challenges to be overcome
Discuss with, and take into confidence, all stakeholders to co-create solutions
Be open and flexible to workarounds and course corrections
Build trust with employees, customers, and other stakeholders
Stay balanced during stressful times, and maintain constant communication with teams
Keep a focused approach, along with the rigour of follow-ups, to meet execution milestones
Empower local teams for tactical calls.
Enjoyed this story?
Hit the
Like
button to let us know!
You can also share your thoughts in the
Comments
section below!