Prev Story
Next Story
Car&Bike, the vehicle reselling arm of Mahindra Group, has created value by leveraging its infrastructure to build a pre-owned car ecosystem by bridging wholesale and retail channels.
Value creation in the pre-owned car segment
By placing our automotive business at the centre, Car&Bike was able to create a lot of value in the larger ecosystem. The company employs a young, agile, and nimble-footed team, capable of bringing in disruptive innovation.
Car&Bike, previously Mahindra First Choice Wheels, ventured into the 'aftermarket' space in 2008. Over the years, the company has emerged as one of the strongest players in its segment.
Car&Bike brings its expertise in the pre-owned market to the table at a time when the auto industry is on the verge of a digital revolution, with customers looking for new ways to research and purchase vehicles.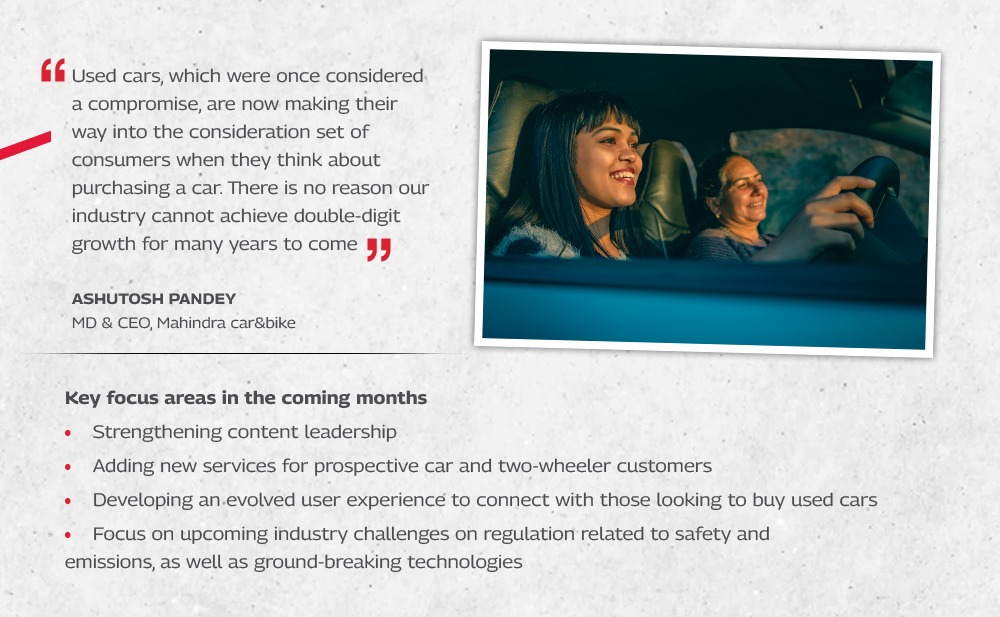 Key focus areas in the coming months
Strengthening content leadership
Adding new services for prospective car and two-wheeler customers
Developing an evolved user experience to connect with those looking to buy used cars
Focus on upcoming industry challenges on regulation related to safety and emissions, as well as ground-breaking technologies
What makes this automotive platform unique?
Car&Bike lists over 42 manufacturers and 336 models to help users and prospective buyers make an informed choice
The business offers technology solutions to all stakeholders in the automotive industry at various points in the buy-and-sell value chain
Users can browse new cars, upcoming cars, car price, car dealers, car reviews, and compare various car models
The platform has an enviable bank of stories, articles, knowledge series specials, and reviews, making it a popular hangout spot for car and bike enthusiasts.
Enjoyed this story?
Hit the
Like
button to let us know!
You can also share your thoughts in the
Comments
section below!