Prev Story
Next Story
Mahindra & Mahindra Limited announced that it had sold 170,682 units of Small Commercial Vehicles in FY22 as compared to 151,889 units in FY21. The company registered a growth of 12.37% and maintained its leadership with a 40.3% market share in the Small Commercial Vehicle (SCV) segment.
The SCV segment forms the backbone of the transport and logistics sector, offering the crucial last-mile delivery of goods. The Mahindra SCV portfolio has the widest range of products from 0.7 ton to 1.7 ton payloads offered in diesel, gasoline and CNG fuel options in select brands that address the diverse needs of its varied customers, including the delivery of agricultural products, dairy, consumer goods, construction material, logistics, fisheries and cash vans to name a few.
The Mahindra SCV range, which comprises Jeeto, Supro, Bolero Pik-up and Bolero Maxitruck Plus, is competitively positioned at various price points basis payload, power, performance, and cargo size. Mahindra offers peace of mind to its customers through the best warranty and value offerings. For example, Supro Profit Truck guarantees the highest profit with higher mileage in its category.
Mahindra has one of the widest sales and service support networks of over 4,000 touchpoints that customers can access throughout the country. Besides providing excellent sales and after-sales service, Mahindra proactively engages with the community by offering multiple benefits, including ten-lakh insurance coverage, education scholarships for children of customers on a merit basis, and health coverage, besides running several awareness campaigns on safety and hygiene.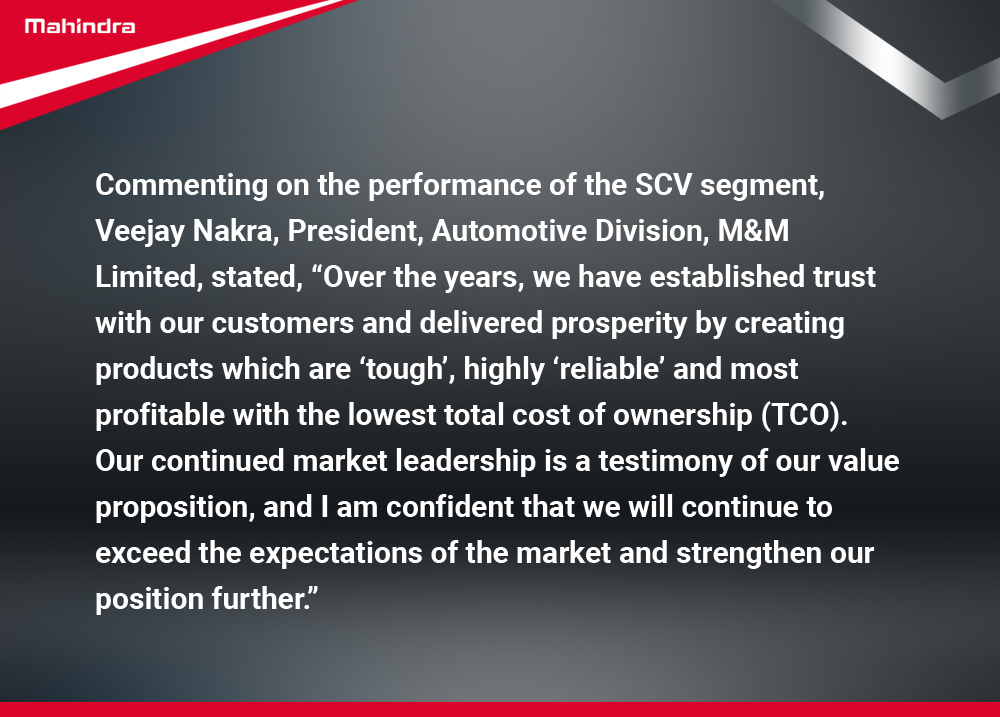 Enjoyed this story?
Hit the
Like
button to let us know!
You can also share your thoughts in the
Comments
section below!
Our LinkedIn handle recently featured on the LinkedIn B2B dashboard. Karan Johar too reshared our #RethinktheBias video. Which Mahindra Rise social media handle do you follow?

Don't forget to follow us across all social platforms.