Prev Story
Next Story
Dear Friends,
The Mahindra Veerta Award recognises selfless acts of bravery by Mahindra Group employees. This award was instituted in the memory of Mohan Redkar, a trainee engineer at the Mahindra plant in Kandivali, who lost his life while trying to save two couples from drowning in the sea off Bandra, a suburb of Mumbai.
Mohan exemplifies courage and bravery in the face of tremendous odds.
We invite you to submit your applications for the Mahindra Veerta Award 2022.
Eligibility criteria for the Mahindra Veerta Award
1. The award will be open to all Mahindra Group employees, including trainees and employees on contract
2. The act of bravery must have occurred in the period 01.04.2021 - 31.03.2022
3. The award will be given for:
A selfless act of bravery
An act with an element of risk that could result in physical danger to life and limb
An act beyond the call of duty
A spontaneous act without expectation of reward or recognition
Preferably for an unknown/unrelated person (or persons)
The application process
You can get the award guidelines by sending a mail to [email protected]
Applications should be addressed to Sheetal Mehta, Senior Vice President – CSR, Mahindra Group, and emailed to

[email protected]

Last date for submission of applications – July 31, 2022
Applications can be sent in any language
The consideration process
1. All the applications will be scrutinised by an Internal Jury.
2. There will be no award in case the jury feels that the acts do not meet the bravery criteria
3. The awardee will receive a cash prize of Rs 1 lakh and a medal
The award will be presented either at the next Mahindra Rise Award ceremony or through Mahindra's internal communication channels.
With warm regards,
Ruzbeh Irani
President – Group HR and Member of the Group Executive Board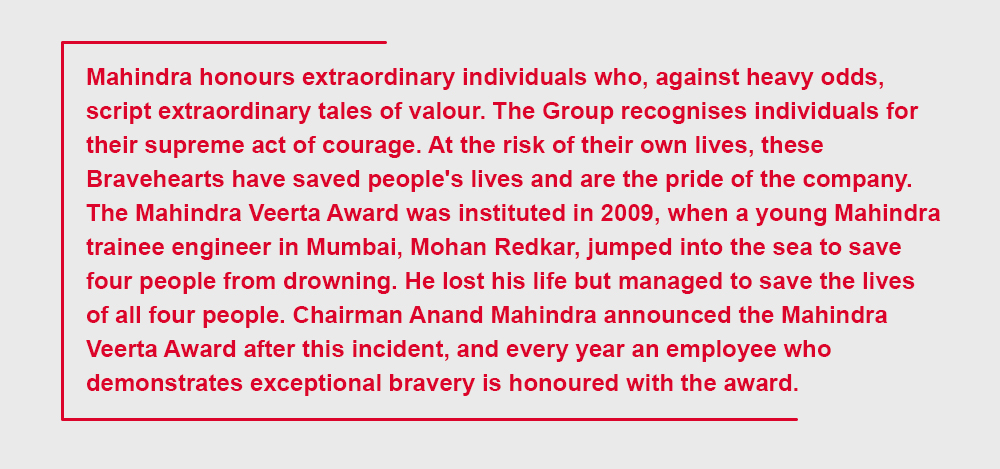 Enjoyed this story?
Hit the
Like
button to let us know!
You can also share your thoughts in the
Comments
section below!