Prev Story
Next Story
Rahul Sarkar, VP and Head of Platform & Products for IT Integration Leader, Tech Mahindra, expresses his excitement about Tech Mahindra's partnership with Automation Anywhere, addressing it as the 'Key to Managing Customers' Growing Expectations'.
About Automation Anywhere
Automation Anywhere is a software company that empowers people by freeing them from repetitive, manual tasks, and making end-to-end business processes more efficient and productive.
Automation 360 is the leading cloud-native end-to-end intelligent automation platform used by the world's top enterprises to double their amount of automated processes at a fraction of legacy RPA systems' infrastructure — with three times faster scaling.
What is RPA?
Robotic Process Automation (RPA) is a software technology that makes it easy for anyone to automate digital tasks. With RPA, software users create software robots, or "bots", that can learn, mimic, and then execute rules-based business processes. RPA automation enables users to create bots by observing human digital actions.
Robotic Process Automation software bots can interact with any application and operate around the clock, nonstop, much faster and with 100% reliability and precision.
Tech M's partnership with Automation Anywhere
In the video, Rahul Sarkar talks about the challenges of working with customers who have increasingly high expectations of RPA, and how AA and A360 deliver an 'amazing' partner experience. He says, "With Automation Anywhere, Tech Mahindra is confident that customer expectations can be managed very well."
Watch the video to know more.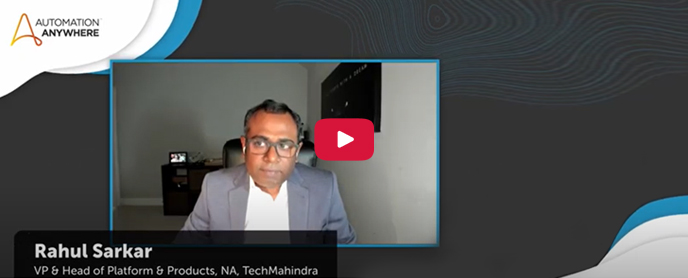 Enjoyed this story?
Hit the
Like
button to let us know!
You can also share your thoughts in the
Comments
section below!