Prev Story
Next Story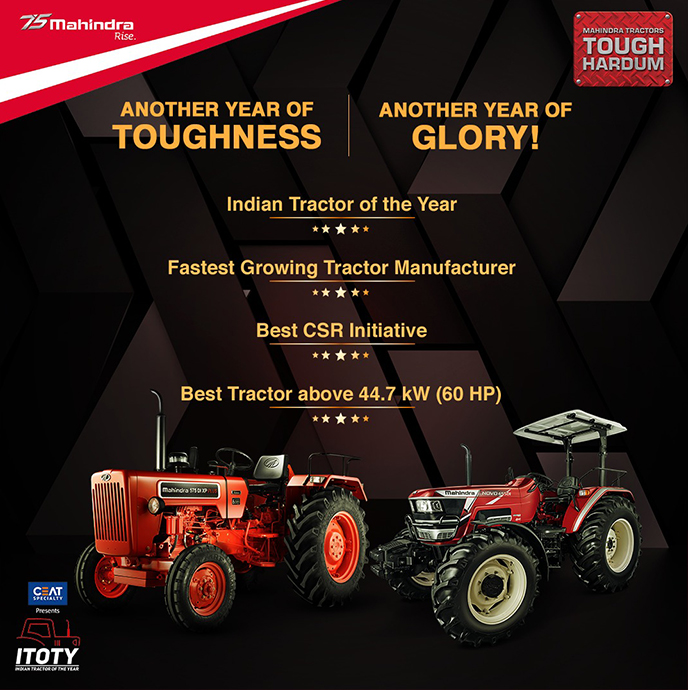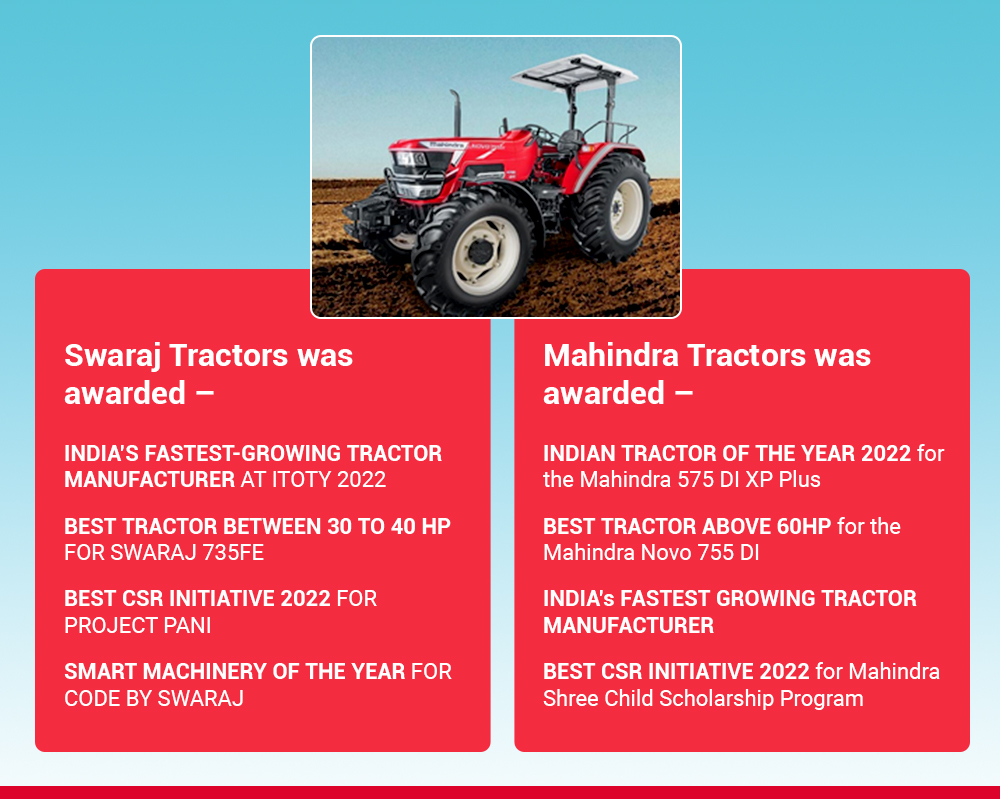 About the Indian Tractor of the Year Awards (ITOTY)
The Indian Tractor of the Year Awards (ITOTY), initiated by Tractor Junction in 2019, is a platform to recognise the hard work and efforts of tractor and farm equipment manufacturers in India – the largest tractor market in the world. The ITOTY awards are judged by jury members comprising of experts of farm equipment specialists from across the country who choose the most deserving contender after fair-minded voting.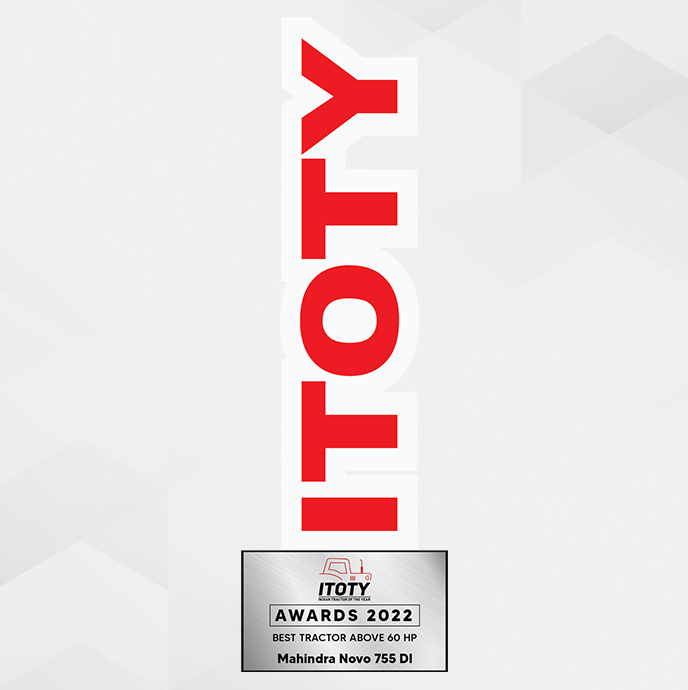 About Swaraj Tractors
Swaraj is a brand that evokes strong emotions in every Indian and is the result of India's pursuit of self-reliance. Swaraj today produces tractors ranging from 15 to 65HP, Wheel and Track type combine harvesters, and a range of agricultural implements and complete farming solutions.
Swaraj has also become a leader in bringing horticulture mechanisation to India with its recently launched product CODE, a versatile multi-purpose ride-on machine, narrowest and lightest in design and weight.
Known for its power, reliability, performance, iconic styling and sound, Swaraj also takes pride in being 'made by the farmer for the farmer' as many Swaraj employees come from an agricultural background, giving unique insights into the practice of agriculture.
About Mahindra Tractors
Mahindra Tractors has been India's No.1 tractor brand for more than three decades. Having rolled out its first tractor in 1963, through a joint venture with International Harvester Inc., USA, Mahindra & Mahindra in March 2019 became the first Indian tractor brand to sell three million tractors, inclusive of sales to global customers.
Known for their exceptional build quality and performance on rugged and unforgiving terrain, Mahindra's Tractors have earned the company both the Deming Award and the Japanese Quality Medal.
The company is the only tractor manufacturer to have achieved this feat and today has one of the most diverse ranges of tractors developed for multi-functional use for both domestic and global markets.
Swaraj Tractors at the ITOTY 2022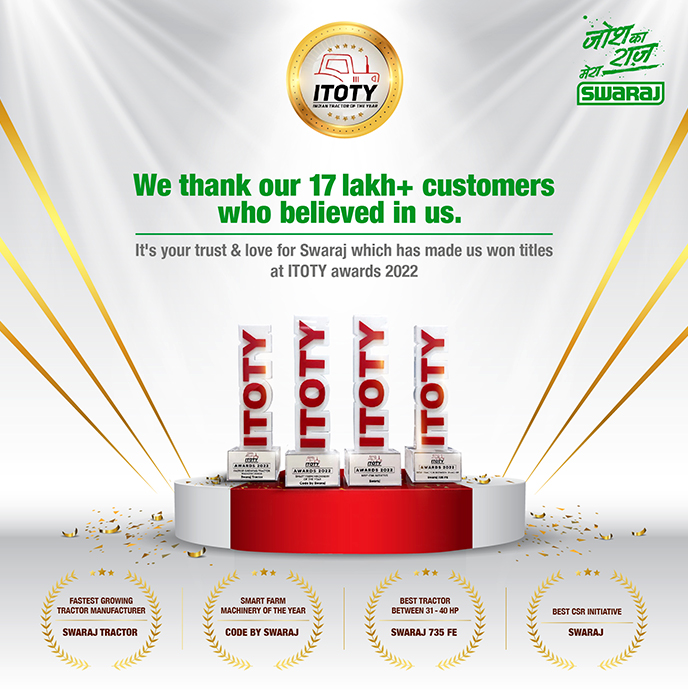 At the Indian Tractor of the Year Awards (ITOTY) 2022, Swaraj tractors was recognised as India's fastest-growing tractor manufacturer.
The brand also won three other awards in different categories.
Accolades won by Swaraj Tractors at the ITOTY Awards 2022
SMART MACHINERY OF THE YEAR awarded to CODE BY SWARAJ
CODE is a revolutionary multi-purpose farm mechanisation solution to transform horticulture farming in India. It is conceived with the idea of eliminating the drudgery of labour involved in horticultural farming.
The narrowest and lightest ride-on machine allows farmers to carry out inter-culture operations in narrow rows for various vegetable and fruit crops.
Additionally, the shorter turning radius of this machine provides better manoeuvrability on smaller farms cultivating horticulture crops.
BEST TRACTOR BETWEEN 30 TO 40HP awarded to SWARAJ 735 FE
Swaraj 735 FE is the most preferred tractor in the farming community because of its long life, low maintenance costs, and ergonomic design. It comes with a very powerful engine and is suitable for both agriculture and allied operations.
BEST CSR INITIATIVE awarded to Project Pani
Swaraj's CSR team undertook Project Pani to deal with the problem of groundwater depletion in Punjab as well as Rajasthan. This project is largely focused on the conservation of water through the renovation of the 18 traditional water ponds over four years in the needy villages of Punjab and Rajasthan.
This initiative would save around 40 lakh cubic metres of water every year, enough to support the irrigation and drinking water needs of more than 20 villages. In another such initiative, roof rainwater harvesting tanks have been constructed in 44 government schools in Rajasthan and Punjab.
About 40 lakh litres of water will be conserved through this project annually. Under this project, clean drinking water will be provided to more than 10,000 students in rural Rajasthan, where there is a high concentration of fluoride in existing groundwater.
Mahindra Tractors at the ITOTY 2022
At the Indian Tractor of the Year Awards (ITOTY) 2022, Mahindra Tractors was also recognised as India's fastest-growing tractor manufacturer.
The brand won three other awards in different categories.
Accolades won by Mahindra Tractors at the ITOTY Awards 2022
INDIAN TRACTOR OF THE YEAR awarded to Mahindra 575 DI XP Plus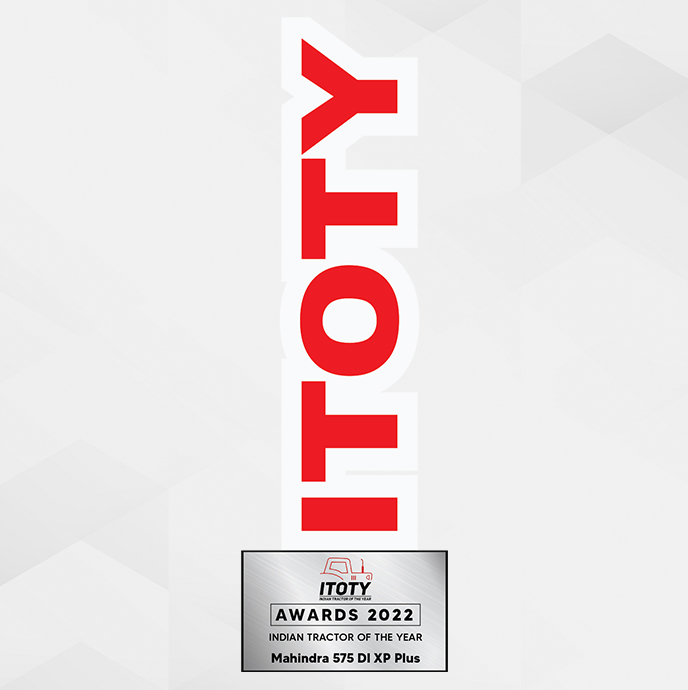 Launched last year, the Mahindra 575 DI XP Plus was the highest-selling tractor in 2022 and is the strongest brand in the 40-50 HP category. Recognised as one of the toughest and most reliable tractors in its category, the Mahindra 575 DI XP Plus is renowned for its exceptional haulage capacity and can be used across a multitude of farming applications, from pre-harvest to post-harvest.
BEST TRACTOR ABOVE 60HP awarded to Mahindra Novo 755 DI
The MAHINDRA NOVO 755 DI is one of the most powerful, technologically advanced 4WD tractors in India, built for various soil conditions and agri-seasons, ensuring the best result every time.
BEST CSR INITIATIVE awarded to Mahindra Shree
Based on Mahindra's Farm Equipment Sector's brand promise of 'transforming farming and enriching lives', 'Mahindra Shree' is a pan-India scholarship programme for students of low-income farmers, who have completed their 10 and 12 board examinations in 2020-2021.
With over 200,000 farmers as part of the programme, Mahindra Shree is an initiative that works towards uplifting the lives of farmers and their families.
Mahindra Tractors announced scholarships for 1,000 low-income farmers' children pan-India in 2022. Mahindra Tractors has joined hands with the NGO 'United Ways India' – affiliated with the global United Way network.
Enjoyed this story?
Hit the
Like
button to let us know!
You can also share your thoughts in the
Comments
section below!
How can workplaces be more inclusive of the LGBTQ+ community?