Prev Story
Next Story
Happinest is based on the premise of 'Crafting Life', catering to people who seek an affordable yet bigger and better life for themselves; and with Mahindra, sustainability comes as an integral part of its design philosophy.
Catering to people who seek a better life for themselves, Mahindra Happinest is the value housing business of Mahindra Lifespaces®, the real estate and infrastructure development arm of Mahindra Group. Recently, there has been yet another feather in the Group's cap after Mahindra Lifespaces, was recognised as a climate change leader by the CDP, a leading international nonprofit that runs an environmental disclosure system for investors, companies, cities, states and regions.
Sustainable design thinking
Sustainability forms an integral part of the Company's design philosophy. Sustainable design thinking — a holistic approach that incorporates space, form, environment, energy, economics, and health for current times and the future — is at the core of all projects.
All Mahindra Happinest homes have been 'green-certified' since 2014. This includes the use of renewable/recyclable materials and eco-friendly products, efficient fixtures that help monitor resource usage, automation elements and sensors, and landscapes that are specially designed to support holistic fitness and well-being.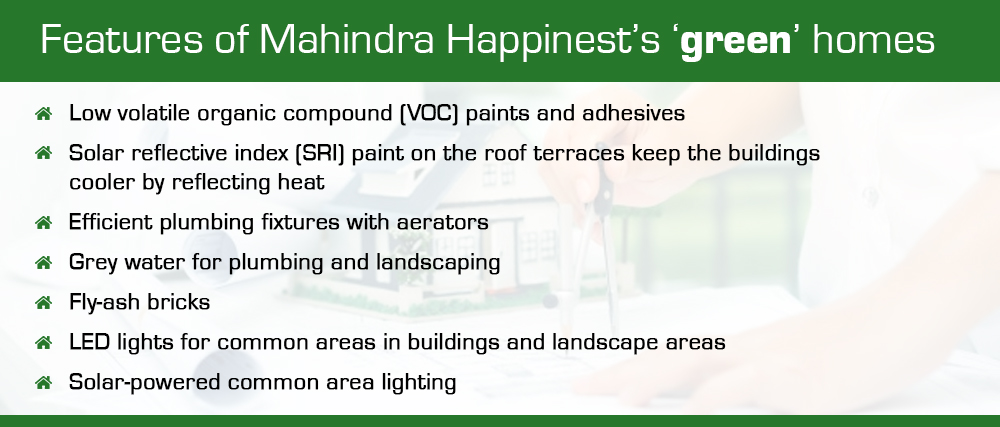 What sets us apart in the value housing space
Mahindra Happinest homes provide the evolving, value home buyer with thoughtfully, intuitively and sustainably designed spaces and living experiences in India. Mahindra Happinest homes offer value not only in terms of strategic location, good features and pricing, but also smart and multi-functional spaces, privacy, sustainability features and community experiences that promote user health and well-being.
For example, Mahindra Happinest at Mahindra World City, Chennai, incorporates multiple design features:
Every unit has a balcony with a French window, thus, creating an extended living space that can serve equally well as a home garden, a quiet space for some 'me time', or as a family zone
We understand that our customers value space and have focused on an efficient unit plan with no wastage of space
Special focus on health through the indoor gym or a calisthenic outdoor gym, which aids in the flexibility of muscles with few equipment
Delighting our customers
At Mahindra Happinest, we recognise that homes are the birthplace of individual ambitions, hopes and dreams (irrespective of the segment); and beautiful enabling spaces have a multiplier effect on the quality of life. Our approach to design thus stems from our research on evolving user needs in the value housing category in India. The value housing segment is waiting to be disrupted. The customer in this segment aspires towards a better quality of life, and we design homes to meet these aspirations and help people Rise – our core purpose.
The future of housing in a post-Covid world
The residential sector is scaling up and innovating with special focus on user wellbeing and health
Moving from 'Floor Space Index' to 'Liveability Space Index' - FSI focuses on a maximum area that can be constructed on land, while liveability is measured by factors that provide quality of life, such as access to freshwater, food, housing, transport, health care, education and a safe and stable environment.
A shift from 'Design Thinking' to 'Sustainable Design Thinking' - Design thinking focuses on prioritising human-centric needs of today's customer needs whereas 'sustainable thinking' focusses on holistic centric considering space, form, environment, energy, economics, and health for today and future.
Article inputs contributed by Pavitra Venkatesh, DGM – Design, Mahindra Lifespaces
Enjoyed this story?
Hit the
Like
button to let us know!
You can also share your thoughts in the
Comments
section below!