Prev Story
Next Story
Across the globe, September 27 is celebrated as World Tourism Day. This year, the United Nations focused their campaign on 'Tourism for Inclusive Growth' due to the massive impact of Covid-19 on the hospitality industry. The pandemic has only further heightened the need for more responsible and sustainable tourism around the world.
The Mahindra Group is a leader in ESG globally through tangible commitments and actions for the Environment, focused and high impact Social initiatives and sustained high standards for Governance. The Group aims to fulfil its ESG commitments while focusing strongly on the three tenets of its strategic narratives — Living our Purpose, Delighting our Customers and Rewarding our Investors.
Club Mahindra has always worked towards conserving the environment and empowering communities around our resorts. This year, to celebrate World Tourism Day, it promoted and showed its support towards the nation-wide campaign 'Vocal for Local'. Club Mahindra supported local tourism in the form of engaging activities — a fun wordplay game-based contest to test people's travel knowledge and by asking them to comment on its social media posts on 'Things to do/Places to visit' in and around different cities, with the contest hashtag #ClubMahindraTourismDay.
Winners were announced on Club Mahindra's Facebook and Instagram pages.
So, the next time you pack your bags to go on a trip, take your conscience with you and travel responsibly always.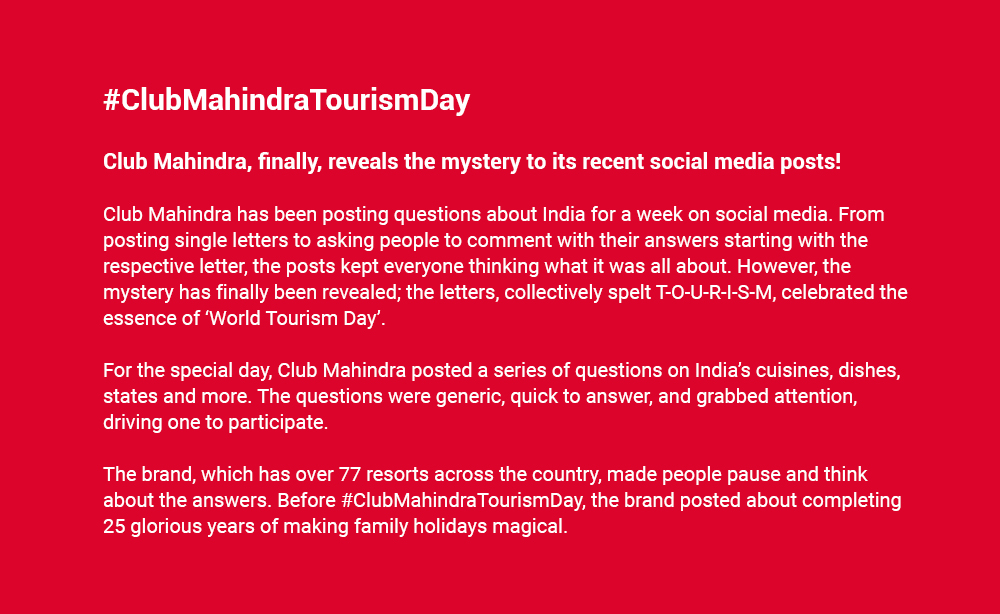 Enjoyed this story?
Hit the
Like
button to let us know!
You can also share your thoughts in the
Comments
section below!