Prev Story
Next Story
Financial problems were a recurring feature in Avinash Kumar's life when he was growing up. His father, Krishna Murari Singh, was a marginal farmer with a landholding of just one bigha (a little less than an acre). Apart from what he earned by cultivating the plot, his father also worked as a door-to-door salesman for daily essentials, earning about INR 8,000 a month.
Avinash' s mother suffered from many ailments, and much of the family income was spent on her medical treatment. Avinash would take tuitions for children in the neighbourhood to supplement the family income, earning about INR 1,200 a month through that.
Despite the financial constraints, Avinash's father was keen for his son to complete his education. So after successfully passing his school board exams, Avinash joined the Bachelor of Science (Physics) course in Mahant Shivratandas Sarvodaya Mahavidyalaya College, Hajipur city, Bihar. In 2011, during his second year of college, Avinash visited the Mahindra Pride School (MPS), Patna and was extremely impressed with the facilities and the curriculum. He could scarcely believe that he would receive such high-quality occupational skills for free if he managed to clear the entrance examinations and the interview. After clearing those, Avinash enrolled himself for the MPS Hospitality course while still pursuing his BSc studies. Not only did he graduate from college with a first division, the rigorous and comprehensive training he received at MPS also groomed him for a successful career in the hospitality sector.
As a child who grew up in an environment where hardly any English was spoken, Avinash had been terrified at the thought of speaking in public, especially in English. The coaches at MPS helped him overcome his fear, and he learnt to interact confidently in public and converse in English with a degree of fluency. The holistic training at MPS also shaped his attitude towards life and helped him rise above the hurdles. Recalling those days, Avinash says, "I learnt many important concepts at MPS, including personal grooming and computer operations, which I know will hold me in good stead in life."
MPS gave Avinash the first step up the ladder to a better life. The hospitality giant - JW Marriott recruited Avinash as a temporary employee in April 2012 for their hotel in Pune. This gave him a monthly compensation of INR 4,600. Since then, Avinash's diligence and commitment has helped him rise swiftly through the ranks. He became a full-time employee within six months, which was followed by promotion as an Executive in the Marriot, Bhopal. After having served as an Assistant Manager – Banquet in the Marriott, Kolkata, he is currently working as the Banquet Manager at the Courtyard Marriott, Ahmedabad, with a salary of INR 66,000 a month, multiple times the salary he started out with.
Over the years, Avinash and his team have bagged many awards and accolades, including the Times Hospitality Icon Award 2019; the Vintage Asia – JW Marriott WhatsHot Owler's Award, 2019; The Telegraph – Award for Excellence 2019; and The Times of India – Times Food & Nightlife Awards 2020. Working in the Marriott has been a dream come true for Avinash, for which he credits MPS. Today, Avinash carries himself confidently — a far cry from when he first entered MPS – and he says, "It played a catalytic role in transforming my life and shaping my personality."
The struggle of his early days seems a distant memory now. Avinash still remembers the Fast-Track watch that he purchased with his first salary — something he had always aspired to possess. Apart from enjoying the fruits of his success, Avinash is also investing prudently. Recently, he purchased a 720 sq. ft. plot of land in his hometown. However, his greatest joy was when early in his career, he managed to gift a pair of gold earrings to his mother with his earnings.
Avinash attributes the tremendous change in his fortunes to his parents and MPS. He sums it up by saying, "Just like my parents, MPS took great care of me and changed my life." Avinash is a source of inspiration for all the young MPS students who aspire to have a rewarding career in the hospitality industry. He has demonstrated that with determination and sincerity, it is possible to achieve any goal that one desires.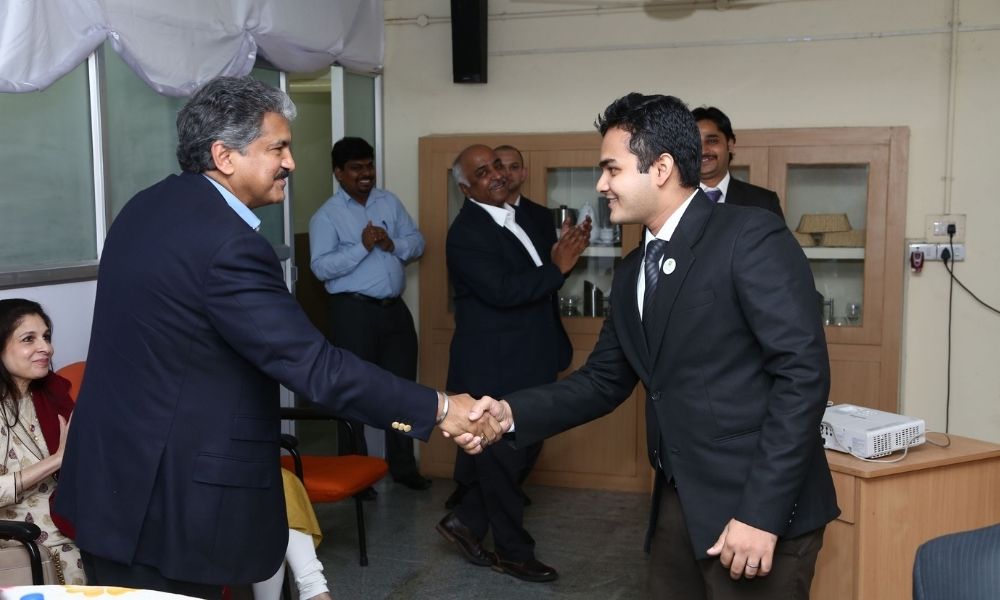 Enjoyed this story?
Hit the
Like
button to let us know!
You can also share your thoughts in the
Comments
section below!