Prev Story
Next Story
Irani joined the Mahindra Group in 2007 as Executive Vice President – Corporate Strategy, heading the Group's Strategy function. As the Chief Brand Officer of the Group, he was one of the architects of the Group's core purpose, 'Rise'. He then moved on to head International Operations for the Automotive and Farm Equipment Sectors of M&M. Subsequently, he led the Group Corporate Brand, PR, and Communications, Ethics, as well as Mahindra's Racing team. In April 2020, he took over as President – Group Human Resources & Communications. He is now also responsible for Corporate Social Responsibility, Ethics, and Corporate Services.
Read on to find out his views on enhancing productive and positive employee experience and why it is critical to business.
Focus not just on 'hows' but also 'whys'
At Mahindra, the Rise philosophy has been a guiding light — Accepting no limits, alternative thinking and driving positive change. These are the 'whats', 'hows' and 'whys' of our corporate purpose.
"The three pillars of Rise make us look at our business and roles very differently. It is how we make our people feel is what they will truly remember. Going forward, there is going to be an accountability for outcomes; accountability for the way you are achieving those outcomes and how you will encourage the right behaviours," he says.
Focus on the right behaviour
Employees' behaviours — that are visible, rewardable and concrete — in the workplace have a direct correlation to the business' operations and eventually, its success. It is one of the top factors that create a positive work environment. "Some of the essential behaviours we would like to see in the Group are being bold and ethical, agility and abiding by the core Mahindra values," encapsulates Irani.
Focus on employees as most valuable assets
Employees champion your business and determine its success or failure. Clearly, improving employee efficiency and performance are major priorities for an organisation. "The whole mantra of simplifying our policies and processes is the bedrock of a better employee experience going forward. Secondly, simpler structures and decision-making rights will make employees clear about what they are expected to do and make their work experience a much more delightful one. Finally, we are committed to revamping our employee digital experience," he elaborates.
Break down the silo mentality
Strong inter-departmental relationships can build higher-functioning organisations. Irani clearly says, "We are looking for collaboration where you help others succeed. We want to end silo working and encourage people to work as a team. This has been the cornerstone for companies around the world."
Foster a learning culture
As information becomes ubiquitous, personalised learning for employee development has become necessary to align employees with business goals. "We should have the right people in the right roles. By equipping the truly high-performing employees with the right set of skills and perspectives, we will ensure that the brightest and the best can move across businesses."
During the session, Dr Anish Shah, Deputy Managing Director and Group CFO of M&M Ltd., shared the business updates.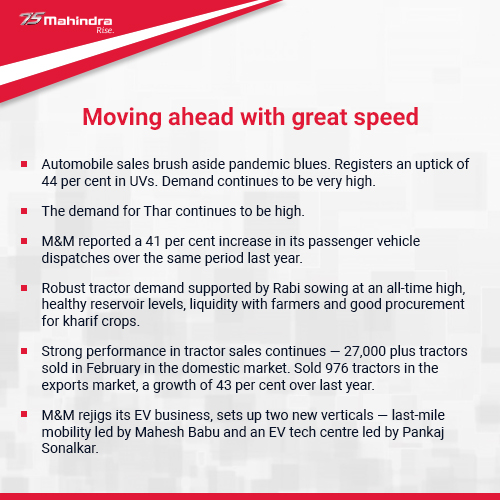 Enjoyed this story?
Hit the
Like
button to let us know!
You can also share your thoughts in the
Comments
section below!