Prev Story
Next Story
"The excellence path is not so much about external rivalry as it is about internal evolution and endless striving towards an increasing level of excellence, the result being increase in global competitiveness."
This philosophy of the Group Chairman, Anand Mahindra, for the relentless pursuit of excellence led to the establishment of Mahindra Institute of Quality (MIQ) in 2006 as India's premier school of quality.
MIQ was set up to create a culture of quality and drive organisation-wide excellence, both within and outside the Group, and create a community of hands-on problem solvers who make a difference. MIQ's offerings are administered by a mix of top-rated faculty, both in-house as well as experts and practitioners from industry and academia. MIQ conducts programmes in the domain areas of Quality, Business Excellence, Safety, Supply Chain, Data Analytics and Operational Excellence. The flagship programmes — Post Graduate Diploma in Quality Management (PGDQM) and Post Graduate Diploma in Operation Management (PGDOM) — are designed to develop world-class Quality and Operational leaders in the Indian industry.
MIQ is all about the pursuit of Business Excellence and of creating the business leaders of tomorrow through a unique learning experience. World-class training infrastructure, holistic programme design, best-in-class faculty, balanced learning through indoor and outdoor activities, experience sharing by leaders, and post-programme support for the application of the learnings are just some of the features that make MIQ stand out. A world-class Digital Experience Centre (DEC) has also been set up at MIQ's campus to develop future-ready leaders. DEC seeks to demystify the emerging new-age digital world of artificial intelligence (AI), augmented reality (AR), virtual reality (VR), mixed reality (MR), machine learning (ML), Autonomous Robotics, Digital Twins, Internet of Things (IoT), 4.0, et al, and enable learning by participants in a non-intrusive and fun environment. Thus, MIQ is truly the one-of-its kind facility in the country in the educational context.
What users say about MIQ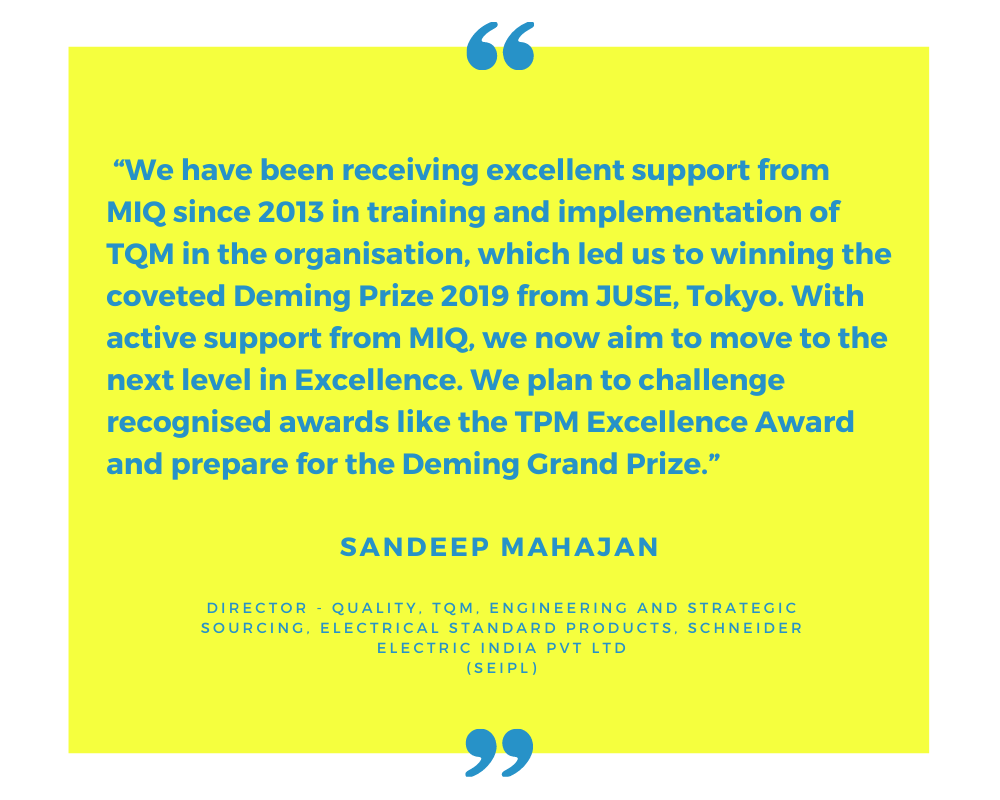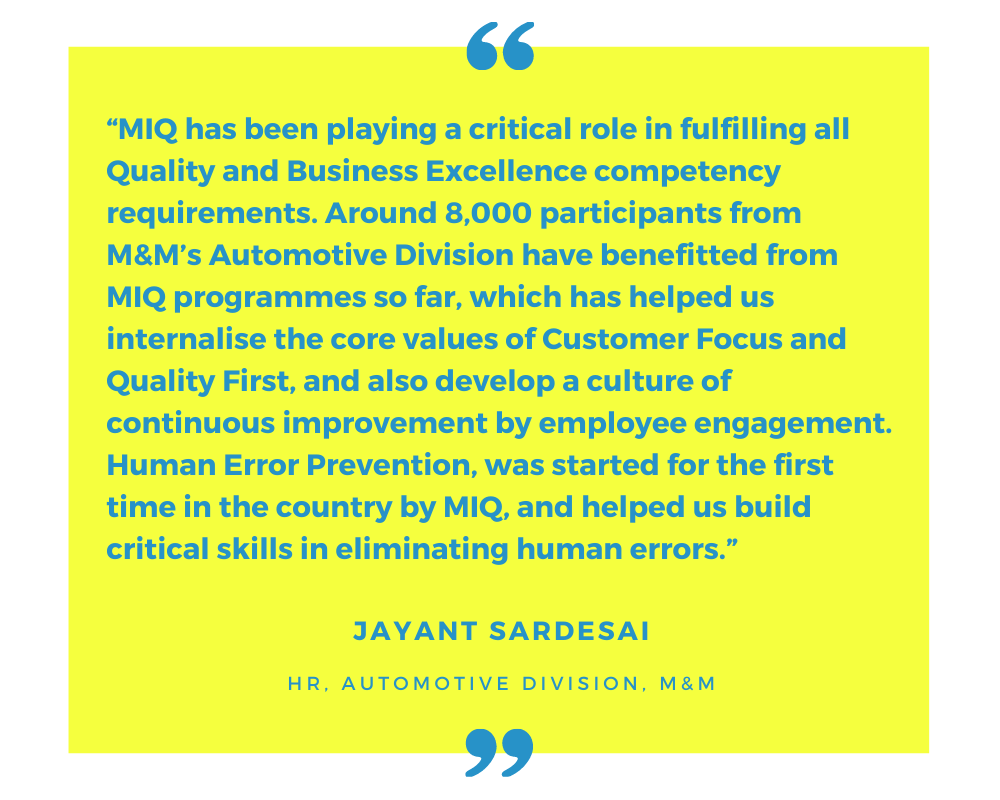 MIQ is also the custodian of The Mahindra Way (TMW), the Group's Business Excellence framework. TMW is an integrated approach to promote excellence across processes and operations of a business in everything we do. According to Vijay Kalra, Head - MIQ, the institute's goal is to enable organisations to systematically develop customer-focused, high-quality processes, thereby generating superior results over the long term.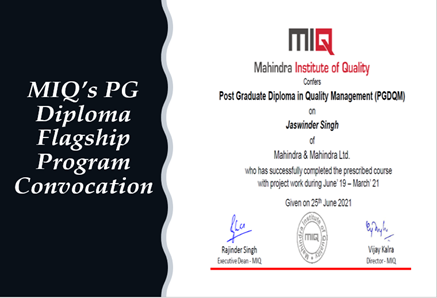 MIQ's 14th convocation ceremony
The 14th convocation function was held on June 25, 2021, with Ruzbeh Irani, President Group HR and Communications, M&M, as the Chief Guest. In his keynote address, Ruzbeh congratulated all the PG Diploma recipients and underscored the importance of Quality First, a core value of the Group, as an essential element of a business. His messages, aptly summarised for the occasion, were to firstly make Quality a way of life by being quality conscious, not only in one's professional life but also personal life, and secondly, to pursue excellence continuously and to make improvements daily, rather than making it a destination.
Successful PG Diploma participants from Group companies such as Automotive Division, Farm Division, Swaraj Division and Mahindra Aerostructures (MAPL), and vendor partners such as CEAT and Elgi Equipment were felicitated during the function.
Participants shared how the programme's learnings helped them drive positive change by solving complex chronic problems at work. Jogender Singh from the Swaraj Division shared that the PGDQM programme gave him the skills and confidence to plan quality transformation of 250 suppliers. Girish Kumar from MAPL shared how lean manufacturing was implemented and supported to meet stringent expectations of their customers — Airbus and Boeing.
Vijay Kalra said, "The vision of MIQ is to make excellence a way and enable Mahindra as well as the Indian industry to emerge as a brand associated with high-quality processes, products, and services." He also lauded the efforts by the faculty and participants to overcome the unexpected Covid-19 crisis mid-way through the course and for showing agility to change to the virtual programme format within a month.
Rajinder Singh, Executive Dean - MIQ, "The flagship PG Diploma programmes have until now benefitted over 600 managers in acquiring advanced competencies and executing 1,200 complex improvement projects at workplaces, giving annualised 30 per cent Quality and 20 per cent productivity improvements, thus generating INR 250 crore annualised certified savings so far."
Watch the video to find out more about MIQ's 14th convocation function.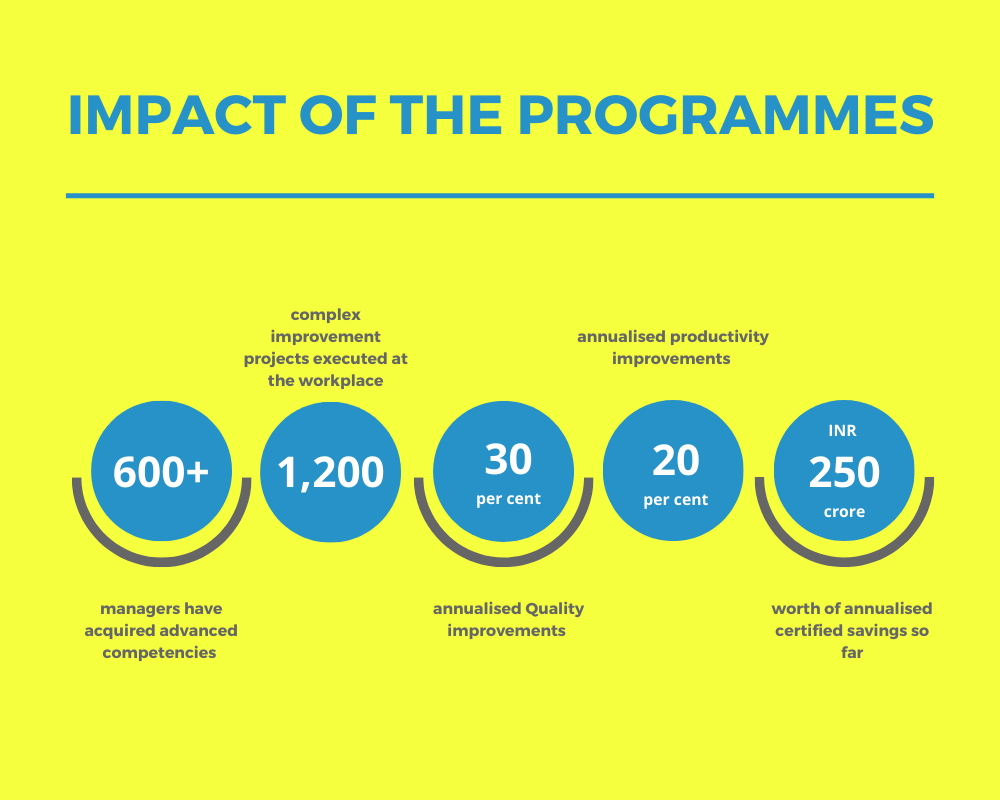 What programme participants had to say about MIQ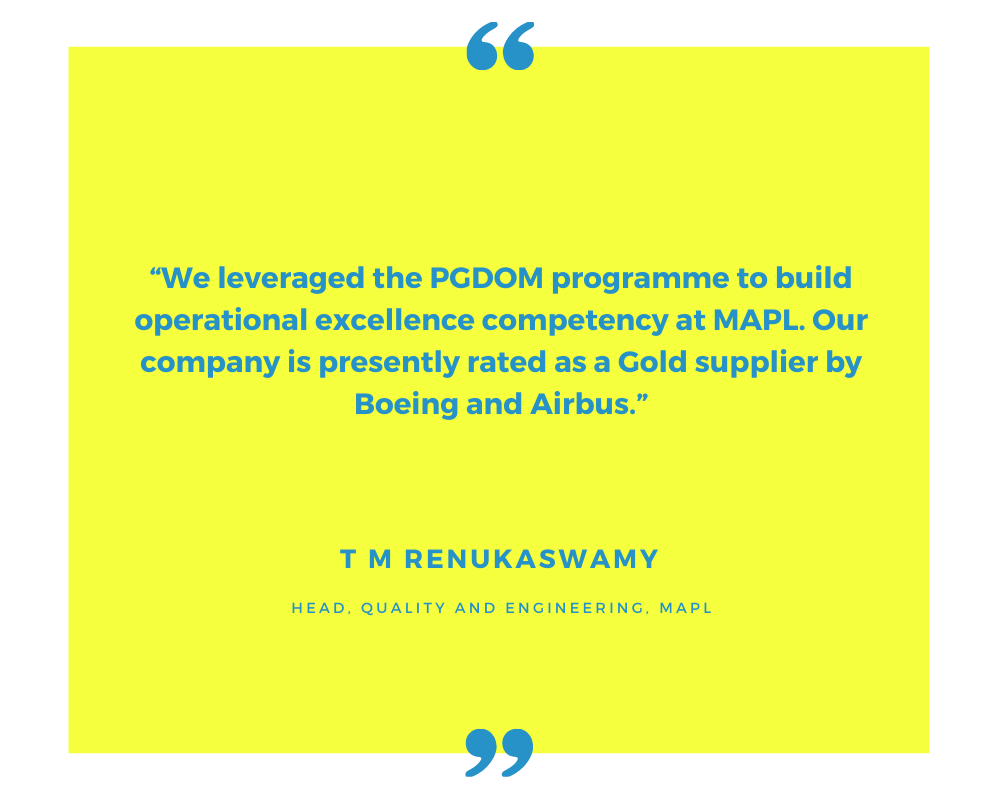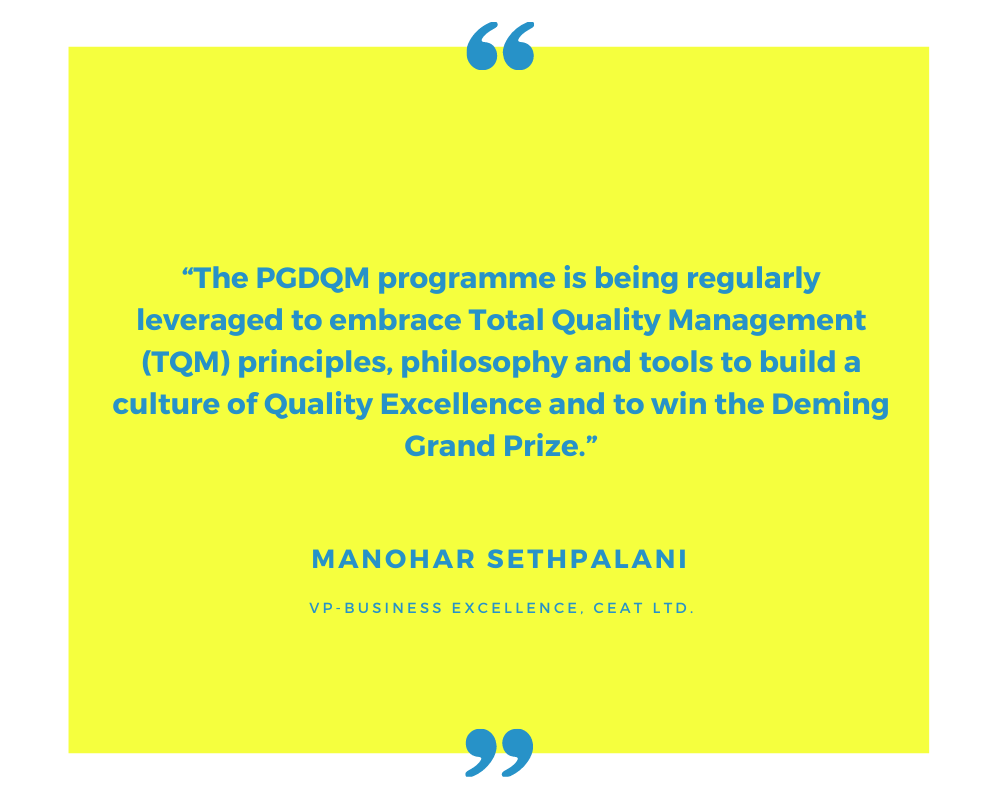 Enjoyed this story?
Hit the
Like
button to let us know!
You can also share your thoughts in the
Comments
section below!