Prev Story
Next Story
Disruption is the foundation of innovation and change. This credo is at the core of Mahindra's Mobility Services Sector's (MSS) endeavour to transform the Indian mobility ecosystem and shape its future.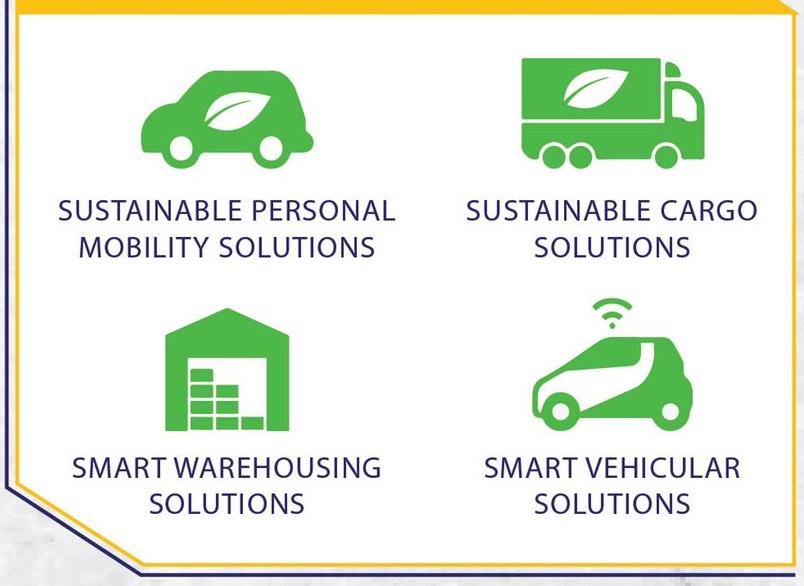 MSS includes a range of businesses that provide innovative, technology-driven solutions for the efficient movement of goods and people across the country. It also acts as an incubation platform and growth driver for future investments by the Mahindra Group in technology-driven mobility companies. It is the second focus area that led to the genesis of Catapult, a unique challenge to the innovators of tomorrow to shape of the future of mobility.
Shoot for success
Catapult challenges young innovators and start-ups to create value and enhance MSS's offerings. The challenge focuses on four key areas:
Sustainable Personal Mobility Solutions
Sustainable Cargo Solutions
Smart Warehousing Solutions
Smart Vehicular Solutions
Catapult invited applications in November 2020. Initially, expecting about 100 startups to participate, it received an overwhelming response from over 300 startups. After a stringent qualifying process and challenging pitch rounds in December 2020, 16 finalists across four focus areas were shortlisted.
Participants can avail the opportunity to access Mahindra Mobility's sophisticated business and technology environment to gain an immersive understanding of how the businesses work. They can also access MMS's partner ecosystem such as academic institutes and government programmes, collaborate with world-renowned technology companies, and benefit from platform credits and knowledge-sharing sessions.
Cohort-1 kicked off in January 2021, where each start-up was assigned Champions from both - the business and tech side - to ensure domain support. A baseline need-gaps assessment was made to identify a customized roadmap for the next three months. They have finalized use case, objectives and success metrics for the three-month project tenure. A few start-ups have complete site and field visits to understand the business processes.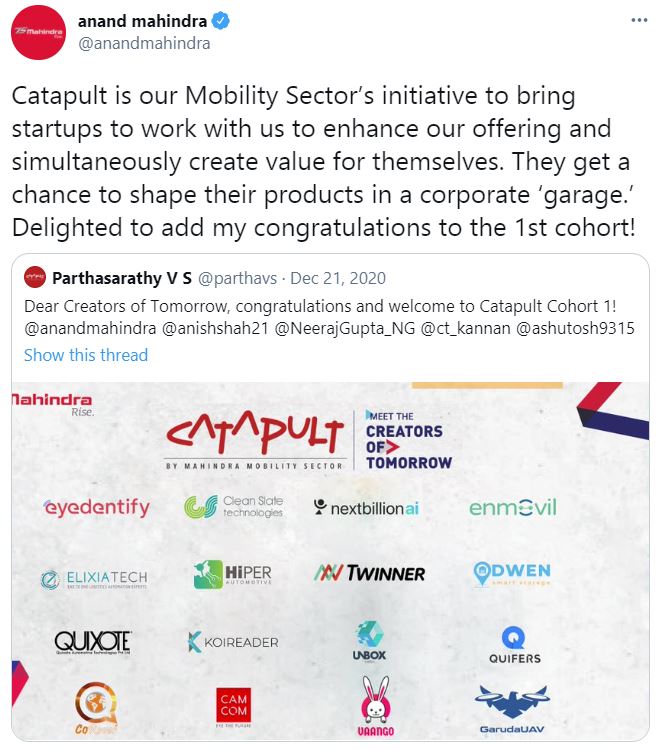 Win-win!
By the end of three months, the innovative solutions will be refined, ready to market and scale to meet the demands of the real-world marketplace. The CXO track will help participants build a scalable organisation while the Tech track will enable them to build a futuristic, scalable tech architecture.
Catapult will end in March 2021, culminating in a once-in-a-lifetime opportunity for the participants to pitch their ideas to key stakeholders including Mahindra leaders, investors and other enterprises. High potential start-ups may get an opportunity to enter a strategic partnership with a Mahindra Mobility business and also be a part of Catapult's alumni network to ensure a continued exposure to Catapult programmes.
Enjoyed this story?
Hit the
Like
button to let us know!
You can also share your thoughts in the
Comments
section below!
On National Engineers' Day (September 15), celebrating innovation and sustainability, which engineering challenge do you think is most important to address worldwide?