Prev Story
Next Story
With buildings contributing significantly to energy consumption and greenhouse gas emissions (GHG) the world over, it is evident that there is a need for research and innovation to reduce carbon footprint in this field.
Mahindra Group Chairman Anand Mahindra, says, "India has the opportunity to be the world's largest laboratory for doing things differently—be it the future of urbanisation, mobility, or climate change. The Mahindra-TERI Centre of Excellence (CoE) embodies our focus on sustainability beyond just business—towards creating a larger urban stakeholder ecosystem that can power a transformative 'green shift' across India's cities and towns."
As the Mahindra-TERI Centre of Excellence (CoE) recently launched the Gurugram Water Sustainability Assessment Report (details below), Echo took a closer look at this partnership—another initiative that reinforces our focus on environment, social and governance (ESG).
The genesis of Mahindra-TERI CoE
Mahindra Lifespace Developers Ltd., the real estate and infrastructure development business of the Mahindra Group and a pioneer of sustainable urbanisation in India, believes that partnership and collaboration is key to achieving decarbonisation and circularity in the real estate sector. As part of its commitment to the Sustainable Development Goals (SDGs), the organisation directly contributes to SDG 17 through its partnerships in different areas.
One such collaboration is the Mahindra-TERI CoE, a strategic partnership between Mahindra Lifespaces and The Energy and Resources Institute (TERI), which focuses on mainstreaming green buildings in India. This first-of-its-kind research facility was inaugurated in June 2018, in Gurugram, Haryana.
Research at the CoE focuses on developing and disseminating market-ready, scalable and viable building materials and technologies. State-of-the-art research techniques and tools generate performance data and metrics and energy-efficient solutions. Key components of the CoE's research framework include building materials, building envelope studies, visual comfort studies and sustainable water use.
The Mahindra-TERI CoE aims to:
Mainstream sustainable housing by identifying and categorising a wide range of indigenous materials based on thermal efficiency, scalability, and affordability.
Influence the building materials industry to adopt sustainable materials, encourage research and development, and enable a 'green' supply chain.
Contribute to the reduction of the energy footprint of India's real estate industry.

The Mahindra-TERI CoE's achievements
Installation of photovoltaic panels with an annual power generation capacity of 23,000 kWh, making it a net-zero energy R&D facility.
Accreditation by the National Accreditation Board for Testing and Calibration Laboratories (NABL), in accordance with the international standard ISO/IEC 17025:2017.
Completion of the assembly of a 'Guarded Hot Box' — a first-of-its-kind facility to test building materials.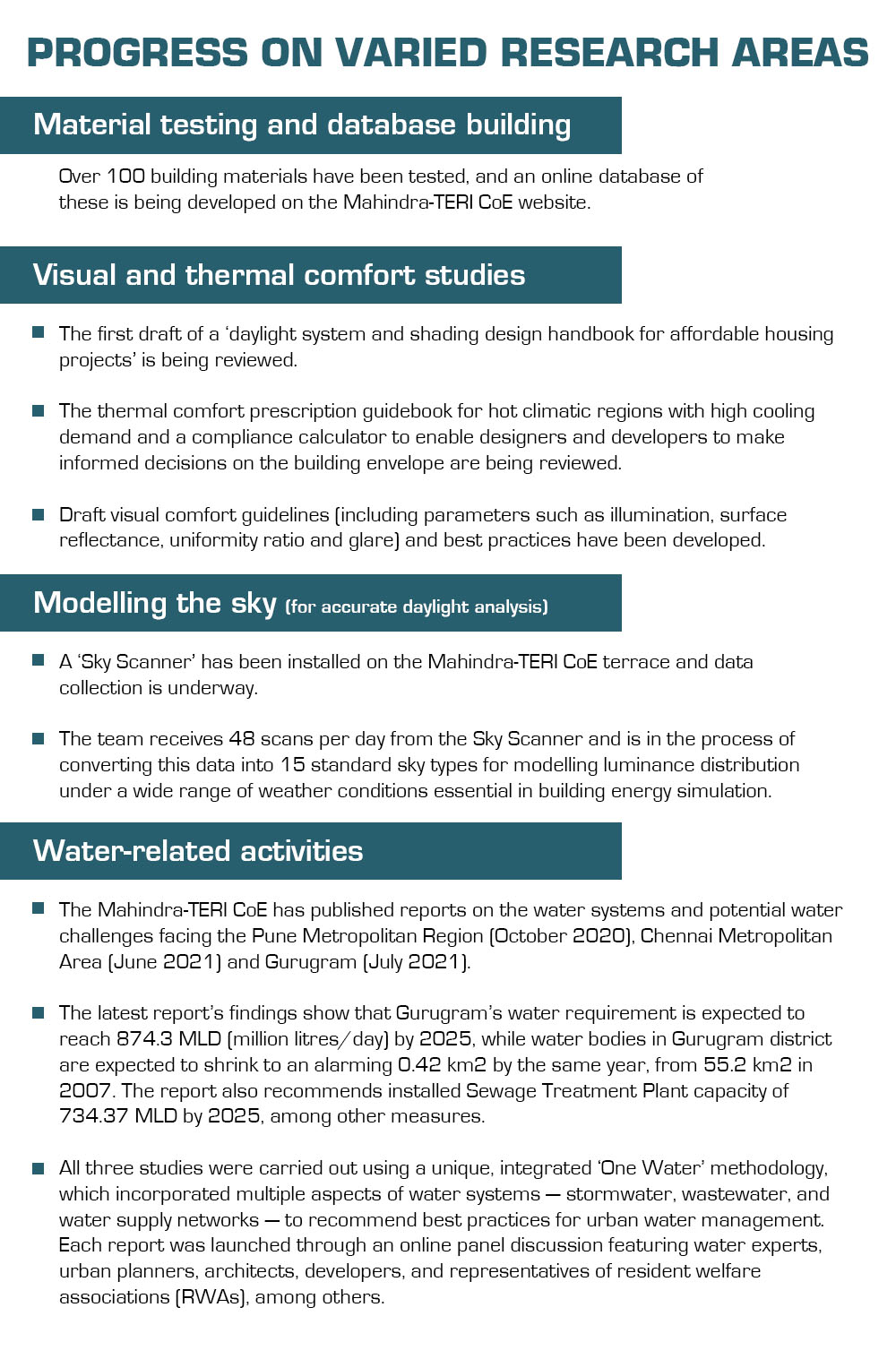 Enjoyed this story?
Hit the
Like
button to let us know!
You can also share your thoughts in the
Comments
section below!