Prev Story
Next Story
Environmental consciousness has been on the rise and more and more people are becoming mindful of reducing their carbon footprint these days. Yet, when we shop, we still go for products that are easily available and fit our budget, without realizing, or even thinking about its impact on the environment.
Introducing Affordable Sustainability
It is to bridge this gap that Mahindra's Group Sustainability office has come up with the idea of making management and employees aware of alternative green options. On Green Consumer Day 2020, Group Sustainability organised two informative sessions on 'The Why and How of Becoming a Green Consumer", which included information on green appliances and home and self-care products. The online sessions included vendors of green products to clarify the misconceptions around sustainable alternatives, explain how these could replace existing conventional products and the environmental impact of both.
These sessions also introduced over 500 Group employees who took part in them to LED lights and energy efficient BLDC fans, which are both good on the pocket and good for the environment; bamboo toothbrushes; disposable dinnerware and biodegradable cutlery; reusable menstrual cups; organic and natural home and self-care products, disinfectant UV systems, organic snacks, etc. The final session on September 25, 2020 was followed by an Online Mela (sale) of sustainable alternatives which were procured at incentivised rates.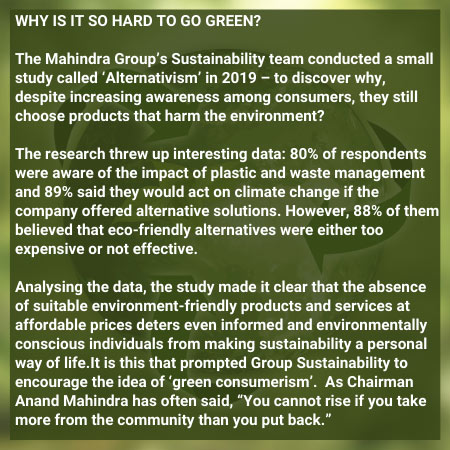 Mahindra employees can use their Mahindra ID and apply the code 'MRISE2020' (or 'MRise2020') to automatically avail discounts to any online purchase made. Over 400 employees have already shown an interest in the items offered; the maximum number of online orders have been for the energy-efficient BLDC fans, organic and chemical-free products like detergents, soaps, shampoos, kitchen and bathroom cleaners, and skincare products.
The Online Mela is still going on and will continue for a few more weeks. So, what are you waiting for? Shop for yourself, your family and your friends this festive season, and know that every purchase you make here is useful, affordable and sustainable.
Enjoyed this story?
Hit the
Like
button to let us know!
You can also share your thoughts in the
Comments
section below!