Prev Story
Next Story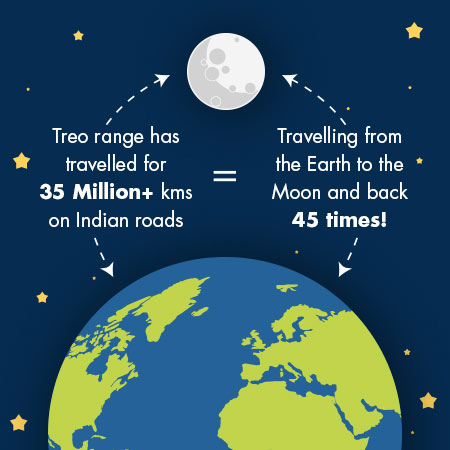 Which brand tops your mind when you think of sturdy vehicles made for Indian road conditions? Well the answer is simple: Mahindra! And in the case of electric three-wheelers? Well the answer remains the same – Mahindra again!
Surprised? For over seven decades, the Group has been synonymous with vehicles that have carved a niche for themselves in the Indian automobile market. The Mahindra Treo, India's first electric three-wheeler powered by a lithium-ion battery, is the latest to join the long list of vehicles that have rolled out of Mahindra's stables.
A quintessential Indian vehicle, designed, developed and manufactured in India (except for the battery cell), the Treo has cumulatively travelled a distance of over 35 million kms on Indian roads – the first by an Indian electric three-wheeler.
Commenting on the significant milestone, Mahesh Babu, MD & CEO, Mahindra Electric said, "Given its low running costs, our Treo customer has been able to save up to Rs. 45,000 per year."
Hardly surprising then that the Treo has crossed the 5,000 units sales milestone. The Mahindra Treo range is currently being sold in over 400 districts across the country. The electric 3-wheeler, with its unique styling, superior handling and spirited performance, makes for a smart first and last mile mobility solution for both drivers and commuters.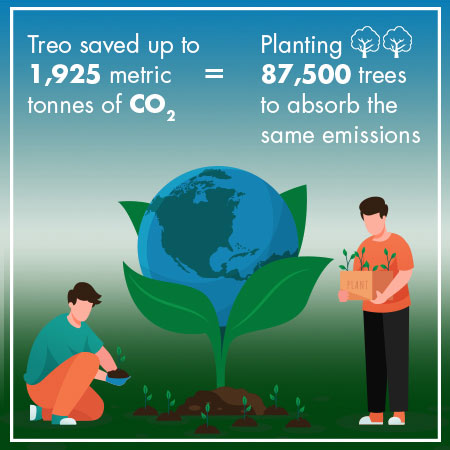 Treo customers clock up to 265 kms in a single day given the ease of charging it anywhere, and with some well-planned charging breaks. One of the most amazing facts about Treo owners is that a sizeable number of them are women! The Drive by Wire Technology on the Treo makes it particularly easy to drive, making it a popular choice for them.
Mahindra in India is sharply focused on taking e-mobility to the masses through its electric three-wheelers and four wheelers in the shared mobility space. "We are working towards localizing EV components for all segments making global EV platforms here in India from 48 Volts to 650 Volts," Mr. Mahesh Babu added. "We will soon expand the Treo range with the addition of Treo Zor (cargo variant) for first and last mile deliveries."
Three factors have created a conducive environment for the country's switch to EVs: strong government policy support for electric three-wheelers, very low running costs and, better performance than LPG and petrol powered three-wheelers.
Treo Stats
Life of 1.50 lakh+ kilometres.
Best-in-segment performance (maximum power of 8kW, peak torque of 42 Nm)
Longest wheelbase in its segment resulting in a very spacious cabin
Highest gradeablity of 12.7 degrees in the segment enables climbing of slopes with ease
Standard warranty of 3 years/ 80,000 kms; extended warranty of 2 years/ 1,00,000 kms
Enjoyed this story?
Hit the
Like
button to let us know!
You can also share your thoughts in the
Comments
section below!