Prev Story
Next Story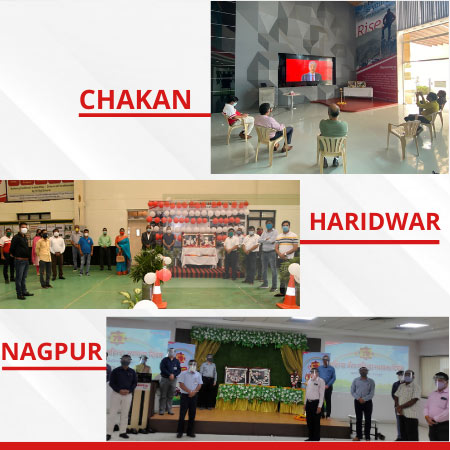 October 2, 2020 marked a unique milestone in the Mahindra Group's journey. We turned 75 on the day, setting off a variety of group-wide events to mark the historical milestone. The celebratory events were largely digital this year, but the Mahindra spirit – to face any challenge resolutely and resiliently, and to Rise again, burned bright and strong. And it figured prominently in the address by several senior Mahindra leaders.
On this landmark occasion, the revered and greatly respected Mahindra patriarch, Mr. Keshub Mahindra, the Chairman Emeritus was the first to engage with the Mahindra family. In his address, he underscored the importance of overcoming the challenges posed by the pandemic. "Corona has been a big disruptor but we need to overcome the challenges as we have done in the past," he said.
In an inspiring message to employees, Group Chairman Anand Mahindra said, "No matter how deep the gloom, we can, and we will, create our own light. Looking ahead I have no doubt that better times lie just around the corner. My confidence is based on the evidence that I see of how we, as an organization, have responded to the crisis. And with that spirit in our hearts there is no crisis that can defeat us."
Mr. Mahindra also took the opportunity to remind employees about the ideals and values that were defined by founders of Mahindra & Mahindra, JC Mahindra and KC Mahindra, which have served as a beacon for the Group over the past seven decades. "We are celebrating 75 years today because we have remained faithful to those ideals," he said.
Experience the Founders' Day broadcast with special messages from our leaders - Dr. Pawan Goenka, Managing Director & CEO; Dr. Anish Shah, Deputy Managing Director & Group CFO, and Mr. Ruzbeh Irani, President - Group Human Resources & Communications here.
The Group also planned a plethora of events as part of the anniversary celebrations, dedicating the 75th year of Mahindra to the 'Spirit of Service', pledging 750,000 hours of community service by employees. The Group also launched MySeva, the Spirit of Seva platform. In addition, a series of fun activities – Mahindra Has Talent and the Mahindra Rise Up Project – have also been planned to allow employees to celebrate and participate safely.
The events in India were complimented by celebrations at other Mahindra facilities across the world. Mahindra employees, who clock in at the plants even during these pandemic times, actively celebrated the Founders' Day together on site while maintaining the highest standards of safety and hygiene.
Enjoyed this story?
Hit the
Like
button to let us know!
You can also share your thoughts in the
Comments
section below!
On National Engineers' Day (September 15), celebrating innovation and sustainability, which engineering challenge do you think is most important to address worldwide?