Prev Story
Next Story
Pininfarina, the iconic brand that combines beauty and elegance and one that is recognized as a symbol of 'Made in Italy', completed 90 years. It was born on May 22, 1930, when Battista Farina, known as "Pinin", signed the deed of incorporation of Carrozzeria Pinin Farina.
Shortly thereafter, the first official Pinin special, the Lancia Dilambda, rolled out of the factory in Corso Trapani, Turin, marking the beginning of an adventure that would traverse three generations and stand witness to profound social, economic and technical changes.
Pininfarina's 90th anniversary celebrations, which began last February at the Triennale Milano, suffered a setback due to the pandemic. However, all the events, including the Concorso di Eleganza Città di Torino and the Pebble Beach Concours d'Elegance, have been rescheduled for 2021.
The company released a special calendar that touches all the brand's social profiles. A webinar that featured Chairman Paolo Pininfarina and CEO Silvio Pietro Angori was also held.
Pininfarina today employs 700 people, with offices in Italy, Germany, China and the United States. It is listed on the Stock Exchange since 1986 and included in the basket of Italian Listed Brands.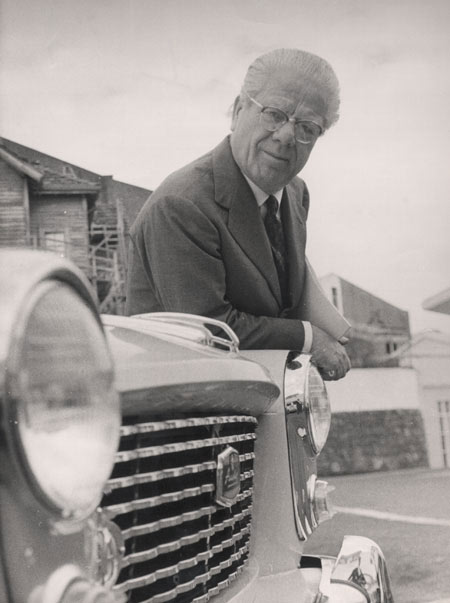 The company's new design and collaborations cover diverse spheres and include:
Experience Design
Pininfarina expands offerings to automotive customers through the conception, design and realisation of user experiences, in the form of a highly responsive, multi-sensorial on-board experience demonstrator, named AutonoMIA. An immersive exploration of how technology from AI to 5G, from display to haptics, and from sensors to natural interfaces can be leveraged to enchance the driving experience.
Automotive Engineering
Pininfarina's strategic collaboration with Bosch and BENTELER offers car manufacturers fast prototyping as well as complete vehicle and product development services up to start of production. This prototyping is based on a proven rolling chassis solution from Bosch and BENTELER. It saves the customer time and money, making them speed up their time-to-market even more.
Architecture
A high-end enclave in Estepona, which along with Marbella and Benahavis, makes up 'The Golden Triangle' on the Costa del Sol, Spain. The enclave to be developed by Spanish developer EXCEM Real Estate will comprise 38 luxury residential units.
Industrial Design
Conceived to appeal to the high-end international market, Residenza is the first charging station designed by Pininfarina for the residential market. It combines new features and redefining aesthetic standards and features innovative design of Pininfarina together with Green Motion engineering competencies. It combines integrated voice control and automatic cable management.
Enjoyed this story?
Hit the
Like
button to let us know!
You can also share your thoughts in the
Comments
section below!