Prev Story
Next Story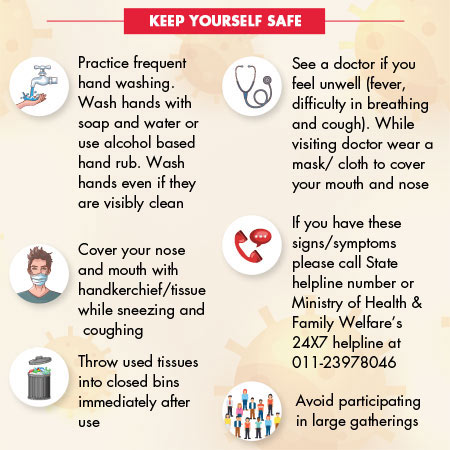 The Mahindra Group is carefully monitoring the rapidly evolving Covid-19 pandemic and continues to take appropriate actions to ensure the safety of its employees and help limit the spread of the virus within the communities in which we operate. Employee well-being and safety is paramount and minimising the business risks are a priority for the Group even as we contribute our best to the global efforts to contain the spread of the disease.
Some of the measures that we have taken for our office locations, include:
A Group-level Rapid Action Force (RAF) has been formed to constantly monitor the situation and suggest swift and effective action in case of an emergency.
An emergency helpline has been established.
As part of efforts to sensitise the employees, an awareness campaign has been launched to educate them about the virus, its cause and prevention, maintaining social distance and personal hygiene and seeking immediate medical assistance if required. The campaign also stresses the importance of remaining calm and staying informed through credible sources of information.
We have implemented work-from-home as appropriate and feasible, while ensuring business continuity. Employees will leverage a host of technology tools at their disposal to facilitate smooth and agile collaboration within and across teams.
Frequent cleaning, sanitation and fumigation inside the premises to prevent to pre-empt the outbreak of the disease.
Restrictions have been imposed on domestic and all international travel.
We have postponed all our internal events which required large gatherings and advised everyone to adequately leverage technologies like Tele Presence and Video Conferencing.
Self-isolation is advised in case an employee or their family member who has travelled from any of the red-listed countries in the past 15 days.
We have a visitor management protocol in place where only pre-registered visitors are allowed into the office premises. The pre-registration requires the host employees to provide details of the visitor including their travel to any of the red-listed countries in the past two weeks. All employees and pre-registered visitors are screened for temperature using thermal-sensing devices or infrared thermometers at all locations' entry points.
For some of the business-critical roles including manufacturing, we continue to take stringent preventive measures - related to both hygiene and social distancing. We have created protocols to ensure strict adherence and pre-emptive measures for containment in case of an emergency.
All necessary safety measures have been deployed at Mahindra manufacturing plants.
Enjoyed this story?
Hit the
Like
button to let us know!
You can also share your thoughts in the
Comments
section below!