Prev Story
Next Story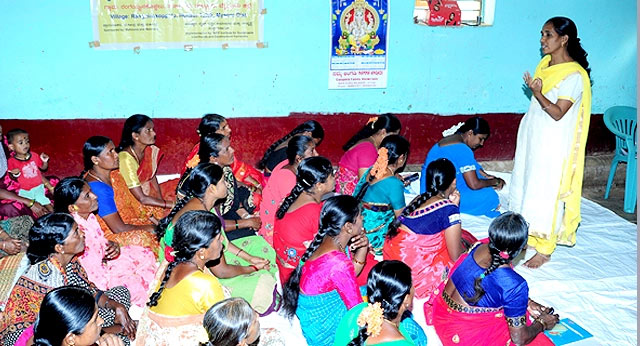 Life has definitely changed for the better for the women of Rangana Koppalu village in Karnataka's Hunsur taluk, admits Mangala Gowri. One of the many women who shoulder the responsibilities of home and hearth in rural India, 41-year-old Mangala is today a self-confident woman who takes her own decisions.
The change has been brought about by Mahindra's Prerna Initiative which has empowered women like Mangala and given them the confidence to be independent decision makers. The Prerna Initiative was launched by Mahindra & Mahindra in Odisha in October 2017 and later expanded to Madhya Pradesh, Maharashtra and Karnataka.
The Mahindra Group has partnered the Central Institution for Women in Agriculture, Indian Council for Agricultural Research, BAIF Development Research Foundation and the NGO Pradhan for the Prerna Initiative.
Each Prerna cluster comprises 100 'Champion' women farmers, who each train 10 other women. Each cluster, therefore, covers 1,000 women. The women are trained to use gender-neutral, easy to use farm tools such as a battery sprayer which increase farm productivity and income while reducing drudgery. The women are also taught to prepare organic fertilisers and pesticides at home using locally available resources.
"Through Prerna, we aim to empower women farmers with the necessary opportunities, training and equipment to be better skilled and more productive in farming operations," says Rajesh Jejurikar, President, Farm Equipment Sector (FES), Mahindra & Mahindra.
The farmers of Rangana Koppalu have also resorted to mixed cropping as a result of this initiative. Mainly tobacco farmers, they are gradually switching to ragi (finger millet) and toor dal (pigeon peas) as their main crops, and intercropping them with avarekai (Hyacinth beans), hesuru (green gram), vellu (sesame seeds) and vegetables. "Through the use of better-quality seeds, we harvested 14 quintals of ragi per acre," says Roja Mahesha, a 25-year-old farmer.
The once-shy women have also gained in confidence. They participate in the gram sabhas and social meetings, and are now able to voice their opinions without hesitation. "We were confined to our homes and didn't know the details of our own farm lands," says 38-year-old Shashikala Lokesh.
Apart from agricultural practices, the Prerna Initiative also conducts sessions on health, hygiene and nutrition so as to bring about holistic development. The programme has also resulted in the digital empowerment of these women; they now know how to use smartphones, are part of WhatsApp groups where they discuss agricultural practices, and have learnt how to transfer money online. These women are well on the road to equality and self-reliance.
Enjoyed this story?
Hit the
Like
button to let us know!
You can also share your thoughts in the
Comments
section below!