Prev Story
Next Story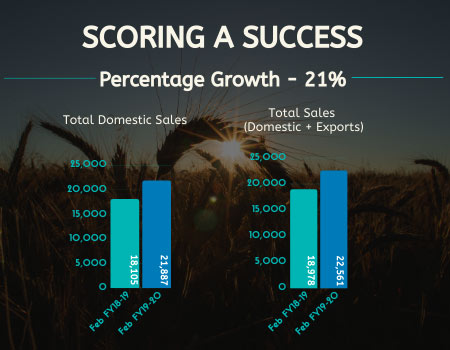 Mahindra and Mahindra Ltd.'s Farm Equipment Sector (FES) maintained its leadership position in the Indian tractor industry, reporting a 21 per cent increase in domestic tractor sales in February 2020 as against the same month last year.
The largest tractor player by volume, the company sold 21,877 units in February 2020 as opposed to 18,105 units for the same month in 2019. Tractor exports also showed a rise with a total of 684 tractors exported during the month. Total tractor sales in February 2019, including domestic sales and exports, was at 18,978 units; February 2020 saw a growth of 19 per cent, with a total of 22,561 units being sold.
"We are happy to see a 21% growth in the domestic tractor sales over the last year," said Rajesh Jejurkar, President – Farm Equipment Sector.
"The demand for tractors is expected to strengthen on the back of a robust Rabi output and prevailing crop prices," he continued. "The increase in rural and agri spending on core schemes by the government should augur well for the industry."
Enjoyed this story?
Hit the
Like
button to let us know!
You can also share your thoughts in the
Comments
section below!
On National Engineers' Day (September 15), celebrating innovation and sustainability, which engineering challenge do you think is most important to address worldwide?