Prev Story
Next Story
Following its recent FY-20 financial results the senior leadership team at M&M held a virtual Analysts' Meet on June 12 to discuss how they planned to drive growth in the 'New Normal. Among the top leadership at the first-of-its-kind virtual meet were Mr. Anand Mahindra, Dr. Pawan Goenka, Rajesh Jejurikar and Dr. Anish Shah.
Dr Goenka opened the meet by introducing the new management team that had taken over in April this year. In his address, Mr Jejurikar shared a detailed outlook for the Automotive and Farm Equipment Sectors. Key priorities for FES include ramping up the core domestic business including farm machinery, turning around its global businesses, focusing on Krish-E, and the ambitious K2 project aimed at adding compact, light-weight tractors to the Group's global product portfolio.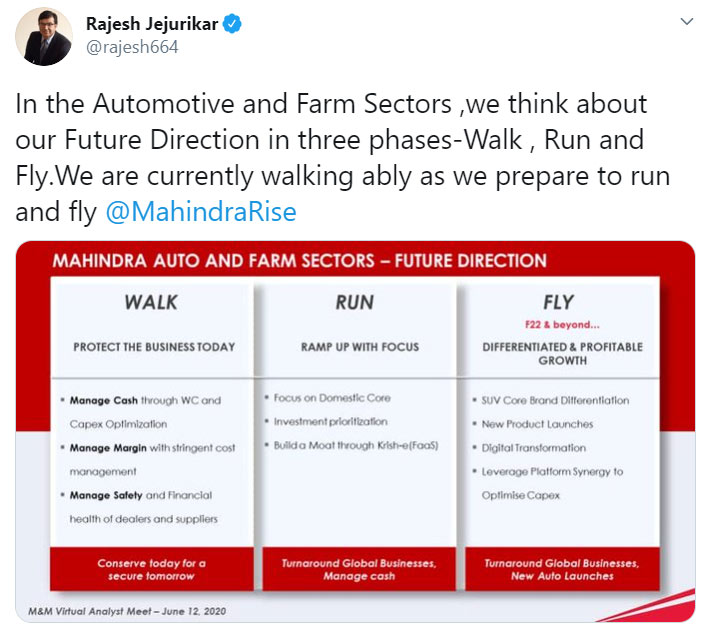 Dr Shah, in his first presentation as the Mahindra Group CFO detailed the numbers, focusing on the resilient performance of the domestic Automotive and Farm Equipment Sectors. He reiterated that the Group had strong cash reserves to tackle unexpected emergencies and that it was taking tough calls to reignite value creation by harnessing the revenue potential of 'hidden gems' like Powerol, Rural Housing Finance, Agri, Accelo, Mahindra Electric, Classic Legends, Mobility Services, Susten & the Aftermarket companies.
The Group leaders also provided an overview of the new 'Walk, Run, Fly', strategy to drive future growth. This includes:
WALK (April '20– August '20) - Protecting the business today by managing cash, managing margins and managing safety. Cash management includes bringing the core Working Capital back to normal and ensuring Capex optimization. Margin management would include improving the NVM and stringent cost management. Finally, managing safety involves ramping up keeping safety first and ensuring the financial health of dealers & suppliers.
RUN (September '20– March '21) - Ramp up with focus. This strategy involves a focus on the domestic core operations, capex and investment prioritisation, building a moat through Krish-e (FaaS) and simplifying the business.
FLY (FY-22 & beyond) - Differentiated & profitable growth. This involves building on the SUV Core brand differentiation, launching new Yuvo Star and K2, digital transformation and leveraging platform synergy to optimize capex.

Enjoyed this story?
Hit the
Like
button to let us know!
You can also share your thoughts in the
Comments
section below!