Prev Story
Next Story
Even as the COVID-19 pandemic continues to wreak havoc across the world, the Mahindra Group has increased its efforts to combat the spread of the virus and extend a helping hand to the communities affected by it. A responsible corporate citizen, the Mahindra Group's efforts cover a wide spectrum – from raising funds to sustain the government's relief efforts, to providing monetary support and dry rations for the underprivileged, to re-engineering its production lines and facilities to manufacture much need PPE and other equipment to aid the fight against Coronavirus.
The Mahindra Group has donated Rs. 50 crores to the 'Prime Minister's Citizen Assistance and Relief in emergency situations fund'. The Mahindra & Mahindra Workers Union has donated Rs. 50 lakhs to Maharashtra CM's Relief Fund. Swaraj Engines has donated Rs. 3 lakhs to Deputy Commissioner Office, Mohali. Mahindra World City Chennai, has donated Rs. 3 Lakhs for Thiruvallur District Collectorate. Swaraj Tractors has donated Rs. 2.5 lakhs to Deputy Commissioner Office, Mohali.
The Group also set up a COVID-19 relief fund under the Mahindra Foundation to support related initiatives. Mahindra employees have raised close to Rs. 7.5 crores through voluntary contributions (as on May 31, 2020). An additional amount of Rs. 23.5 lakh has been committed by Tech Mahindra employees and associates to support the COVID-19 related initiatives.
Mahindra's efforts to provide 'in kind' or material support have proved critical in the fight against the pandemic. Our Auto and Farm Sector (AFS) has produced and distributed over 3,00,000 face shields, over 5,00,000, 3-ply face masks and over 450 Aerosol boxes.
Additionally, the team has also been working on developing a basic Ambu bag (named AIR100) and ICU ventilators. Mahindra Summit Agriscience is currently producing and supplying 34,000 litres of disinfectant and sanitizers.
Mahindra Holidays has offered its resorts as Temporary Care Facilities, while Mahindra Logistics has launched HOPE (Helping Our People during Emergencies), an initiative to support truck drivers financially, in their battle against the COVID-19 related lockdown.
That's not all, Tech Mahindra has led the digital fight, creating tools to strategically tackle some of the issues faced during the pandemic. It has successfully implemented various digital initiatives including:
The development and deployment of a Blockchain based e-Pass solution for State Governments to streamline validation and enable the mobility of essential services
The development of an Integrated Digital Health Platform to provide remote access to healthcare
Implementation of the Dial 100 police emergency response management system, and coordinating citizen services
Collaboration with the Government of India on an app for contact tracing and other applications
Use of technology to create computational drug discovery models to help find a cure for COVID-19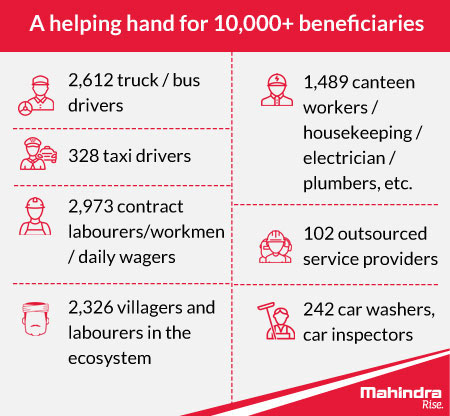 The Group has been providing cooked food and dry rations to benefit the underprivileged and needy affected by the lockdown. Kitchens set up at 17 AFS locations have distributed cooked food to over two lakh individuals. Additionally, the Group has distributed ration and other essentials to almost 92,000 individuals.
The Group's other notable efforts include the launching of ALYTE, a free emergency cab service in nine cities, including metros like Mumbai, Kolkata, Bengaluru and Delhi, by Mahindra Logistics.
As part of efforts to combat COVID-19 through the dissemination of information regarding hygiene and safety practices, the Mahindra Group's initiatives have reached about five lakh community members.
Enjoyed this story?
Hit the
Like
button to let us know!
You can also share your thoughts in the
Comments
section below!