Prev Story
Next Story
With the Indian EV industry poised for recovery, Mahindra Electric will continue with its plans to launch three new products this financial year. Showcased at the Auto Expo 2020 this February, the Mahindra eKUV100 will be India's most affordable electric car that will go on sale in the next few months.
This will be followed by the launch of Treo Zor an electric load carrier. The Mahindra Atom a unique mobility solution, that has the potential to transform India's last and first mile commute is also slated to launch in 4Q of this financial year. Mahindra sold over 14,000 electric vehicles last year.
Encouraged by the demand for the Treo electric auto and Treo Yaari electric rickshaw, the company is now set to launch a load carrier, the Treo Zor by the end of the year. "There is high potential for an electric auto load carrier for e-commerce and last mile delivery. Therefore, we are looking at launching the Treo Zor, an electric load carrier by the end of this year", said Mahesh Babu, MD and CEO, Mahindra Electric in a recent media interview.
The electric autos segment has recovered to about 40-50% of pre-Covid levels. The company will continue to focus on electric autos as they make economic sense for their customers, Babu said. However, the focus on three-wheelers would not come at the cost of other electric products. Mahindra Electric has not reduced or pulled back any investments despite the ongoing crisis.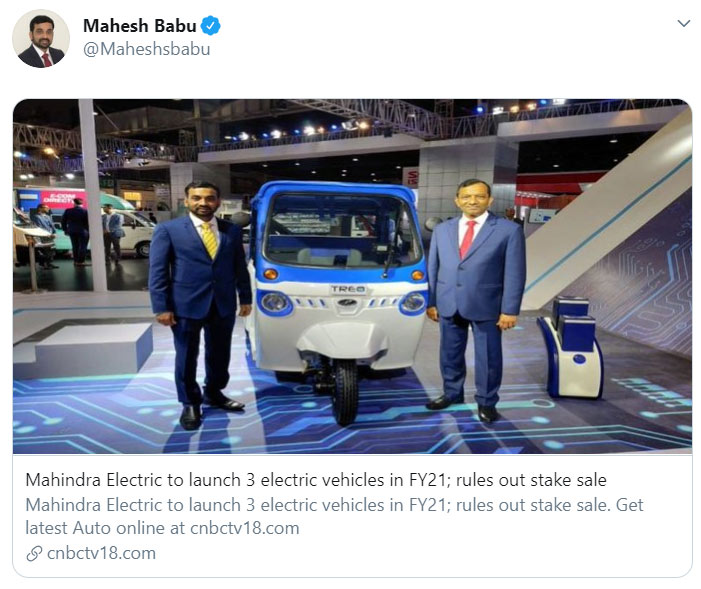 Stating that India's EV industry was poised for a recovery, Mr. Babu said, "The EV sector has localized much faster than the internal combustion engine industry." Underscoring the 'Made in India' element, he pointed out that, "A lot of value addition has already gone into electric vehicles. Barring the battery cell, almost all components of the Treo range are Made in India."
The big positive for EVs is that they have no tail-pipe emissions. The lockdown has made people experience the benefits of cleaner air. There is a co-relation between air pollution and viruses. Air pollution affects the lungs and makes people more susceptible to viruses. EVs therefore can play an important role in ensuring cleaner air for everyone. The emphasis on safety including social distancing will also drive people to purchase their own vehicle for commuting to work and this would also help drive EV demand in the future.
Enjoyed this story?
Hit the
Like
button to let us know!
You can also share your thoughts in the
Comments
section below!