Prev Story
Next Story
"I wish there is a Pride School only for girls and I want to run such a school," says Tanya Wadhwa. Her father was alcoholic, often abusive, and her mother worked at multiple jobs to make ends meet. If it weren't for her mother, Tanya could not have completed her schooling. In fact, Tanya couldn't even have dreamed that one day, she would be a role model for other girls from similar backgrounds. Today, Tanya, a Senior Executive in Reliance Retail's Project Eve, is confident and empowered.
What's the reason for this transformational change? Tanya credits her transformation to the 90 days spent at the Mahindra Pride School in Chandigarh, Punjab. So inspired is she by the experience that she dreams of running a Mahindra Pride School exclusively for girls.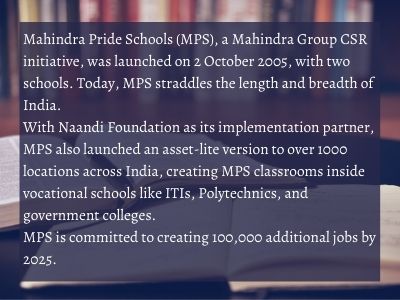 Tanya is one among the 350,000 youth who have earned employable skills through the Mahindra Group's 'Mahindra Pride' initiative. She is also one of the 75 indomitable spirits whose journeys have been chronicled in a coffee table book aptly titled, "The Job Factory", authored by Manoj Kumar, CEO, Naandi Foundation.
"They made me feel like I belong here."
Across India, the Mahindra Pride Schools (MPS) have helped unemployed youth from the lower economic strata of society to upgrade their skills so they can chart their own futures. Mohan Vitkar from Pune is one of them. Orphaned early, Mohan was brought up by his mother, who worked for daily wages. Mohan himself did odd jobs to pay for his own education. He had no hopes of anything better until he stumbled upon the Mahindra Pride School, Pune. Like Tanya, Mohan's transformation has also been a tale of defying the odds.
According to Mohan, MPS gave him a sense of belonging. "MPS is my family; new batch or new faculty, they always make me feel like I belong here." MPS also gave him dignity and respect. Most importantly, MPS believed in him. When he had joined Eureka Forbes, he had no self-confidence. But recently, Mohan was recognised as Eureka Forbes' 'Best salesman in India'. "The training I received at MPS made me self-reliant," says Mohan, smiling.
This is exactly what the Mahindra Group set out to do – nurture the potential of youth and provide them with employable skills to help them become self-confident and self-reliant. With Naandi Foundation as its implementation partner, the Mahindra Pride School programme created a unique curriculum that enabled disadvantaged youth to access 'job readiness courses' and ensured they were gainfully employed.
Says Sheetal Mehta, Senior Vice President – CSR, Mahindra Group, "Through their jobs, not only have their standards of living improved, more importantly, they are looked upon with respect from their communities."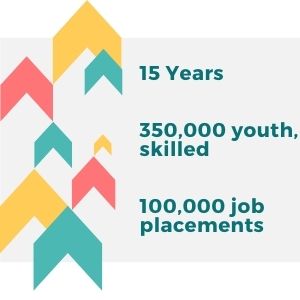 "Every girl needs a room of her own."
For Shashikala Bhandaru, that respect is part of what she has gained from her stint at MPS. The daughter of daily-wage labourers, Shashikala worked multiple jobs including one as a labourer grinding stones to make gravel for concrete. Never in her wildest dreams did she imagine she would become get a corporate job in a multi-national company. Shashikala had done her entire schooling in the vernacular medium, but after completing the 90-day course at MPS, she learnt to speak fluent English, raising her self-confidence. Today, she's a Process Associate at Tata Consultancy Services.
Her 'small dream', she says, is to move her family into a double bedroom house. "Every girl needs a room of her own, her own space, and her privacy," says Shashikala, "it will enable them to grow, to dream, to achieve."
At MPS, students learn leadership skills too. Self-confidence and self-empowerment combine to crown their efforts with success at every stage of their careers. And the young women who attend MPS come away as strong votaries of women empowerment, determined to do their bit to inspire other young girls.
"I was transformed from Day 1."
For Avinash Kumar, an alum of the first batch from MPS Patna, joining MPS was a dream come true. The son of a small-scale farmer whose earnings from his 1-acre farm went to treat his seriously ill wife, Avinash had watched his father struggle to keep the family together. With the odds stacked against him, Avinash barely managed to scrape through his 12th. Luckily for him, an acquaintance told him that MPS promised a job at the end of a 90-day course.
Avinash's first day at MPS was an eye-opener – 50 per cent of the students in his batch were girls. For a young boy whose mother had been married at 14, this was transformational. With a flourishing career at JW Marriott, Avinash is poised on the next leg of his journey at Araku Coffee, where he hopes to closely observe farming methods.
Listening to these four young people on the occasion of the launch of The Job Factory, Anand Mahindra, CEO, Mahindra Group, couldn't help feeling happy and humbled. "I've always wondered why we address them as 'youth from weaker sections", said Mr Mahindra. "Their indomitable spirit, in fact, makes them the 'stronger section' of our society," adding that he couldn't be more heartened to see that Mahindra Pride Schools had lived up to the promise made years ago.
Mahindra Pride Schools have more than lived up to a promise made on 2 October 2005. In these intervening 15 years, the schools and Mahindra's Smart Academy have cumulatively skilled 500,000 youth and made 100,000 placements. MPS have become a veritable 'jobs factory' transforming the lives of youth who were unskilled and deemed unemployable. Today, these very youth are unstoppable. "I'm intimidated by their stories," said Mr Mahindra, as the emotional evening drew to a close. "I don't know many people who have overcome as many challenges as they have."
"Having empowered over 350,000 youth, from socially and economically disadvantaged families, with employable skills and having placed 100,000 , our CSR initiative, Mahindra Pride has truly contributed towards nation building. For me, amongst all our CSR initiatives, the most fulfilling and exhilarating moments have been while interacting with Mahindra Pride School alumni. You will be able to understand why when you leaf through the pages of the Job Factory and read their stories. I am grateful to our partner Naandi Foundation who have created the magic sauce which has resulted in a 100% placement record at Mahindra Pride Schools," adds Sheetal Mehta, Senior Vice President – CSR, Mahindra Group.
To download the book, click here, and share your feedback with us on [email protected].
Enjoyed this story?
Hit the
Like
button to let us know!
You can also share your thoughts in the
Comments
section below!