Prev Story
Next Story
Countries across the world are engaged in fighting against the Coronavirus pandemic. The USA is in the midst of a serious crisis and various agencies are involved in containing the spread of the contagion.
Mahindra Automotive North America's (MANA) Michigan employees have taken an all-hands-on-deck approach in the fight against COVID-19. According to Rick Haas, President and CEO, "We have a company full of people who love to design and make things, and they're not people who like to stand on the sidelines. We have ideas coming in from across the company, and we're looking hard at all of them."
The company has announced several initiatives that will be planned and executed from its headquarters and manufacturing facility at Auburn Hills, Michigan. These include retooling the manufacturing facility to produce Aerosol boxes with an innovative easy-to-use design; face shields and masks for frontline healthcare workers and first responders; and other products.
Aerosol boxes are clear protective boxes that are used as protective shields by healthcare professionals who have to be in close contact with COVID-19 patients. They act as an insulator between the doctor and the patient, thus significantly reducing the possibility of COVID-19 transmission to doctors and medical staff treating coronavirus patients. MANA is making these protective shields of the same material used to make ROXOR windshields, said Rich Ansell, Vice President, Marketing, adding, "They are scratch-resistant and won't fog up despite multiple cleanings."
In another initiative, MANA's food trucks will be used to distribute free meals to Oakland County's healthcare workers and first responders. MANA is also launching the 'ROXOR Delivers' initiative that supports ROXOR dealers and their customers across the country. It will deliver ROXORs directly to the customers' doors thus limiting social interaction.
The company continues to work closely with the State of Michigan, its congressional delegates, the National Association of Manufacturers, Michigan's Manufacturers' Association, Oakland County and others in aiding the fight to contain the global pandemic. The company also organized a specific link for healthcare professionals and others who may need PPE products during this period of crisis.
In South Africa, Mahindra launched the 'Hero Campaign', a nation-wide drive to thank 'everyday South African heroes' to boost the morale of frontline health workers.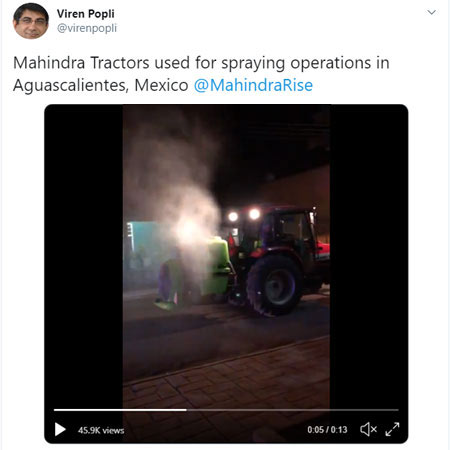 "We've all heard countless stories of ordinary South Africans who faced personal risk to support their countrymen," said Rajesh Gupta, CEO, Mahindra South Africa. "This is true not just of healthcare workers, but for the many essential services workers that help to keep us safe and our food shelves stocked."
The company's 'Hero Campaign', which ended on April 14 with a special candle-lighting ceremony on social media, encouraged the company's dealer network, employees, suppliers and other South Africans to share their stories of selfless service during this global crisis.
Employees lit a candle to honour the extraordinary service of ordinary South Africans. "Like a candle, each of these essential workers has selflessly given of themselves to bring light and warmth to their fellow South Africans," said Mr. Gupta. The company hopes that this small act of appreciation will grow into an overwhelming show of support for those who are a part of this critical workforce.
Enjoyed this story?
Hit the
Like
button to let us know!
You can also share your thoughts in the
Comments
section below!