Prev Story
Next Story
The Mahindra Group has been at the forefront of a concerted effort to help India in its historic fight against the Coronavirus pandemic. Recent initiatives included the development and manufacturing of critical medical supplies such as ventilators and face masks; as well as the use of Club Mahindra resorts as Temporary Care Facilities.
The Mahindra Foundation would also be creating a fund to assist those most vulnerable to a financial fallout because of the current lockdown. Group Chairman Anand Mahindra has promised to donate his entire salary to seed this relief fund and has urged Group companies to set aside funds to assist those in their ecosystem hit hardest by the lockdown and subsequent economic shockwave.
Some of the other recent initiatives to fight against the impact of Covid-19 included-
1. Meals for migrants: In order to help migrant workers and daily wage labourers, the Mahindra Group opened communal kitchens in 10 locations across India. These kitchens supply 50,000 meals and 10,000 ration packets every week. Each kitchen can provide 10,000 meals a day. This infrastructure is free for anyone who wants to use it to provide meals in bulk.
2. Face masks: The Mahindra Group had offered to help anyone who wants to make face masks. Responding to this, Suhani Mohan and Kartik Mehta of Saral Designs reached out for help to mass-produce 3-ply face masks. The Group's support has enabled the company to set up a face mask manufacturing unit within Mahindra's Kandivali plant and produce 3,000 masks a day. There are plans to ramp up daily production to 10,000 masks. These masks are currently being distributed through the Mahindra Group's CSR department to government hospitals, policemen, and other frontline corona warriors.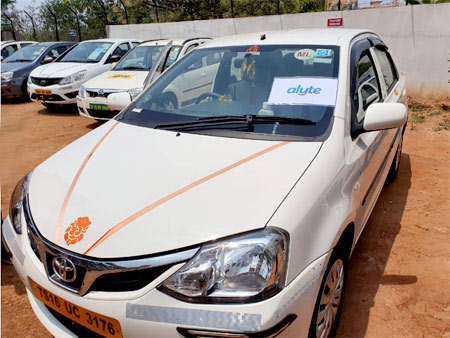 3. Free emergency cab services: Mahindra Logistics (MLL) has launched free emergency cab services in Hyderabad to support the fight against Covid-19. MLL's Enterprise Mobility Business, 'Alyte', will provide a special fleet for non-medical emergency transportation. Targeted at single mothers, disabled individuals, senior citizens, etc., Alyte will provide rides for people who need to shop for essentials and medication, visit banks or access medical facilities. Alyte is also offering free transport services to doctors, nurses and emergency responders.
4. Sanitation services: Mahindra's tractor-mounted sprayers, usually deployed on farms, are now being used by various municipalities in Maharashtra to carry out sanitation operations.
5. Curfew passes: A high-powered Tech Mahindra team put in dedicated efforts to help the Delhi Police roll out COMPASS – the Coronavirus Online Movement Pass System – to ensure the smooth movement of essential services, medical personnel and food supplies across the capital.
Enjoyed this story?
Hit the
Like
button to let us know!
You can also share your thoughts in the
Comments
section below!