Prev Story
Next Story
On October 18, 2019, a 13-member family, including children and an older woman, travelling from Mumbai to Shirdi in a Tempo Traveller, met with an unprecedented scenario when smoke started coming out of the vehicle. After crossing the Kasara Ghat, the situation got worse when the vehicle caught fire. A passerby saw the incident and immediately informed Mahindra employee Harish Chaube, Duty Security Officer, Plant Administration. The incident could have been worse had it not been for Harish, who chose to act soon without wasting time. He got approval from his seniors and rushed to the incident site with four other team members and a fire tender from the Igatpuri plant. "I stayed calm, and my only focus was to prevent any casualty and further damage. I am grateful to all my team members without whom I could not have conducted this operation successfully," he says.
Upon reaching the site, he saw that the fire was blocking the exits, so he prompted the passengers to use the emergency door. However, this too was jammed, and Harish had to use an iron rod to open the door and evacuate the passengers. There was another risk looming large: A petrol pump, just 50 metres away!
Using the same rod, he punctured the fuel tank, thereby reducing the chance of an explosion. He also started dispersing the crowd away from the scene as another emergency response group reached the spot.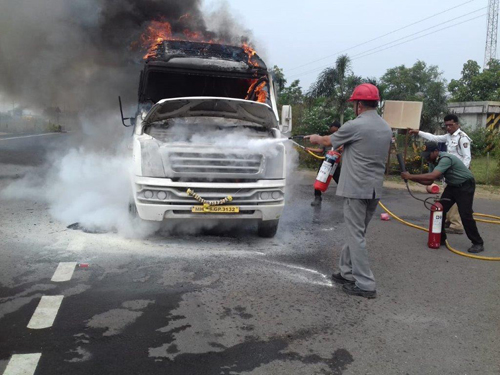 Soon, Harish shifted his focus to extinguishing the burning vehicle. He and his team initially used water to douse the fire, but it wasn't effective. However, he managed to control the flames by using DCP fire extinguishers, and subsequently used water to get the engine fire under control.
After an hour-long fight, Harish and his team finally managed to extinguish the burning vehicle completely. His team also arranged for an alternative bus for the family to continue their pilgrimage. He fought fearlessly and chose to Rise for good!
If you have a similar story, share it with us at [email protected]

Enjoyed this story?
Hit the
Like
button to let us know!
You can also share your thoughts in the
Comments
section below!