Prev Story
Next Story
The XUV700 is more than just a powerhouse of an SUV — it comes loaded with segment-first features that are designed to command attention. With the latest offering that replaces the flagship XUV500, the SUV major is looking to straddle both ends of the market — the premium SUV segment and the premium six-seater SUV segment.
Here's what our leaders have to say about it
Just hours before its most-awaited launch, Anand Mahindra, Chairman, Mahindra Group, shared what the car would be like, the features it will come with, safety and design highlights, among other details. He retweeted: "You've heard about it. You've talked about it. You've seen it in disguise. It's the most awaited SUV. It is the XUV700 driven by AdrenoX."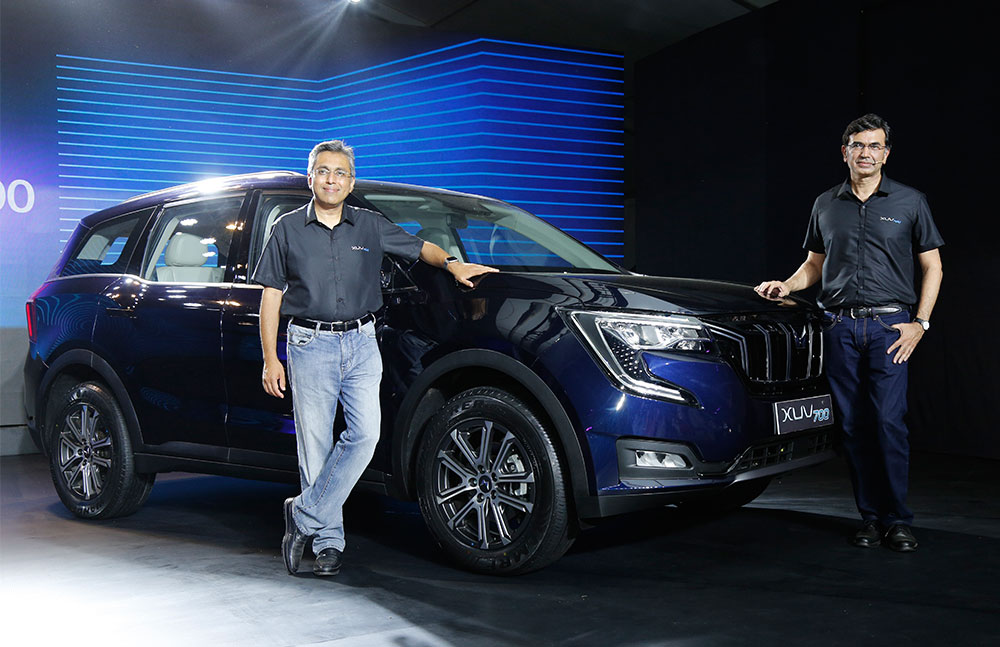 Dr Anish Shah, MD & CEO, M&M Ltd., said, "It is the sheer passion that drives our people to create advanced, adventure-ready vehicles, with an unmissable presence. We are ready to lead the core SUV segment with nine new exciting SUVs planned for launch by 2026. And our most ambitious addition, the XUV700, is throbbing and pulsating with technology, power and intelligence to let people explore the impossible."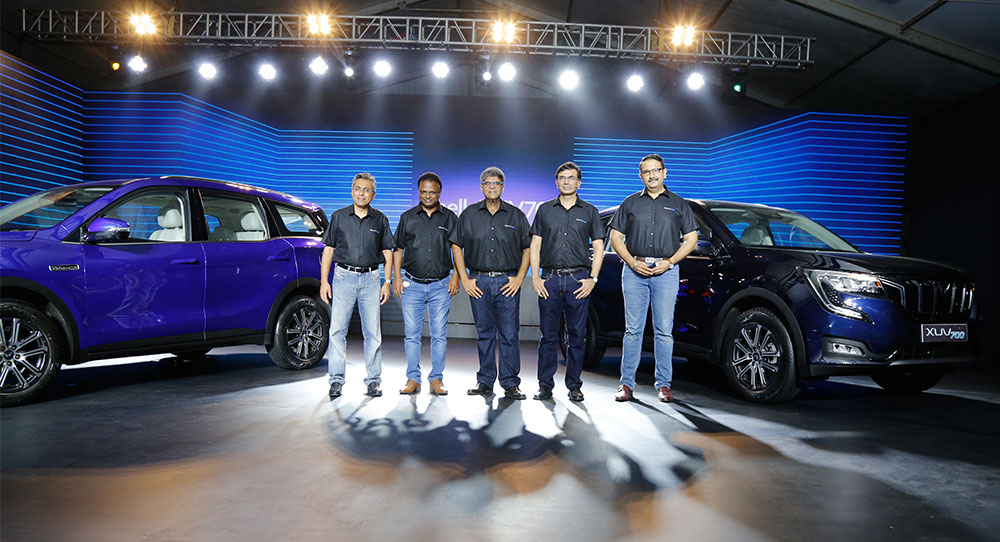 Rajesh Jejurikar, Executive Director, Auto & Farm Sectors, M&M Ltd., said, "Every once in a while, an automobile comes to change the future course of its manufacturer, and in the process, it transforms the segment itself. The XUV700 marks the beginning of a whole new Mahindra and a new era for the SUV segment in India. We have raised the bar on best-in-class features, technology and design. Our customers are in for a longstanding treat with the innovative new XUV700."
"The XUV700, one of the most awaited offerings from Mahindra, is sure to hit the sweet spot with customers. Built on the new W601 platform, XUV700 marks the beginning of the next generation of sophisticated and authentic Mahindra SUVs, which will offer an adrenaline rush like never before," said Veejay Nakra, CEO – Automotive Division, M&M Ltd.
As the XUV700 kick-started its journey on 15 August 2021, let's take a closer look at what others are saying.
Print Media
Economic Times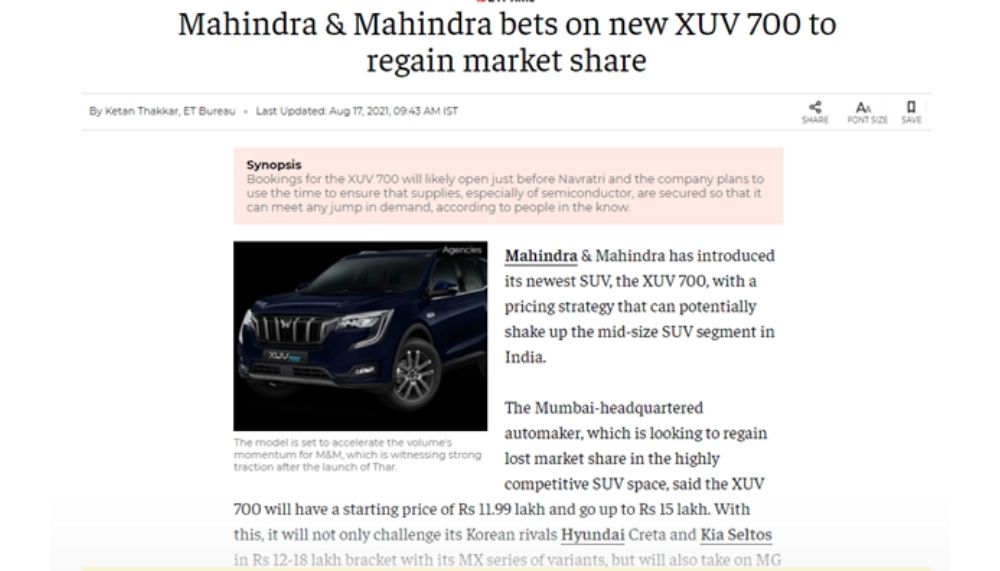 The Financial Express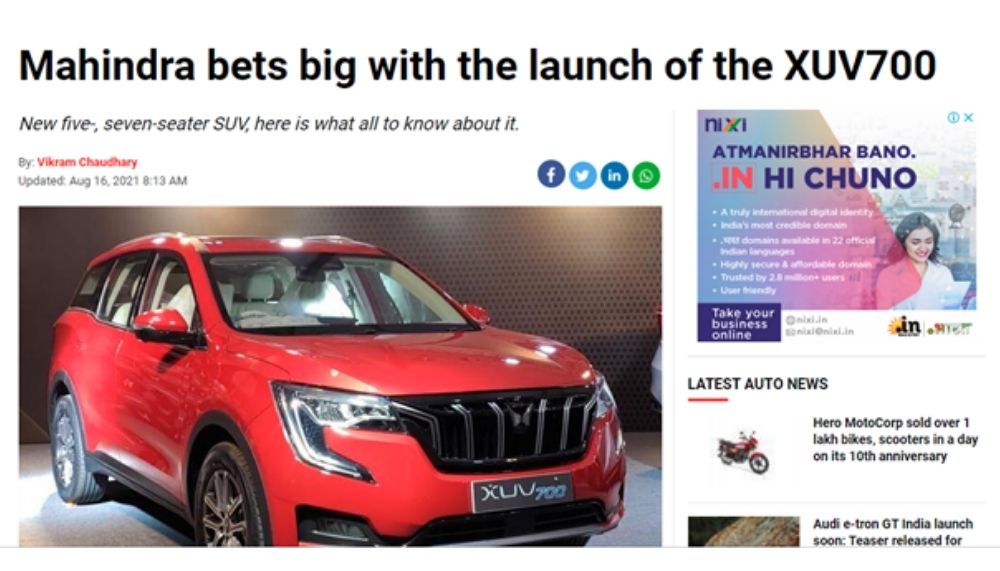 Autocar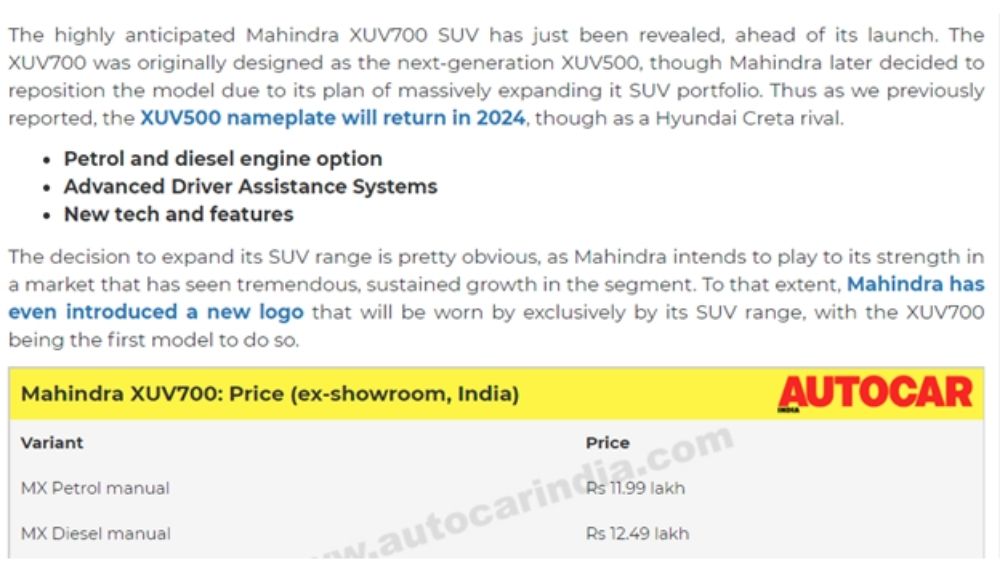 Social Media Influencers
Enjoyed this story?
Hit the
Like
button to let us know!
You can also share your thoughts in the
Comments
section below!