Prev Story
Next Story
Mahindra & Mahindra Ltd., (M&M Ltd.), one of India's leading automotive companies, announced that its overall auto sales (passenger vehicles + commercial vehicles + exports) for the month of July 2021 stood at 42,983 vehicles.
In the Utility Vehicles (UVs) segment, Mahindra sold 20,797 vehicles in July 2021. The Passenger Vehicles segment (UVs, cars and vans) sold 21,046 vehicles in July 2021. Exports for the month of July 2021 were at 2,123 vehicles.
According to Veejay Nakra, Chief Executive Officer, Automotive Division, M&M Ltd., "More than 90 per cent of our dealerships and workshops are now operational across the country. We have seen a significant increase in activity levels, enquiries and, as a result, sales across our product portfolio. We sold 42,983 vehicles overall and registered a growth of 91 per cent in the Passenger Vehicles segment over the same period last year. While the supply of semiconductors continues to be a global issue and we are doing everything to address it on priority, July has been an exciting month for us with two new product launches. We launched the Bolero Neo for new-age customers looking for a tough, powerful, go-anywhere authentic SUV. We also launched the Supro Profit truck range of SCVs, offering guaranteed higher mileage and payload, and have onboarded Ajay Devgn as the brand ambassador. Both launches have received very positive initial responses, and we are confident of building on this in the coming months."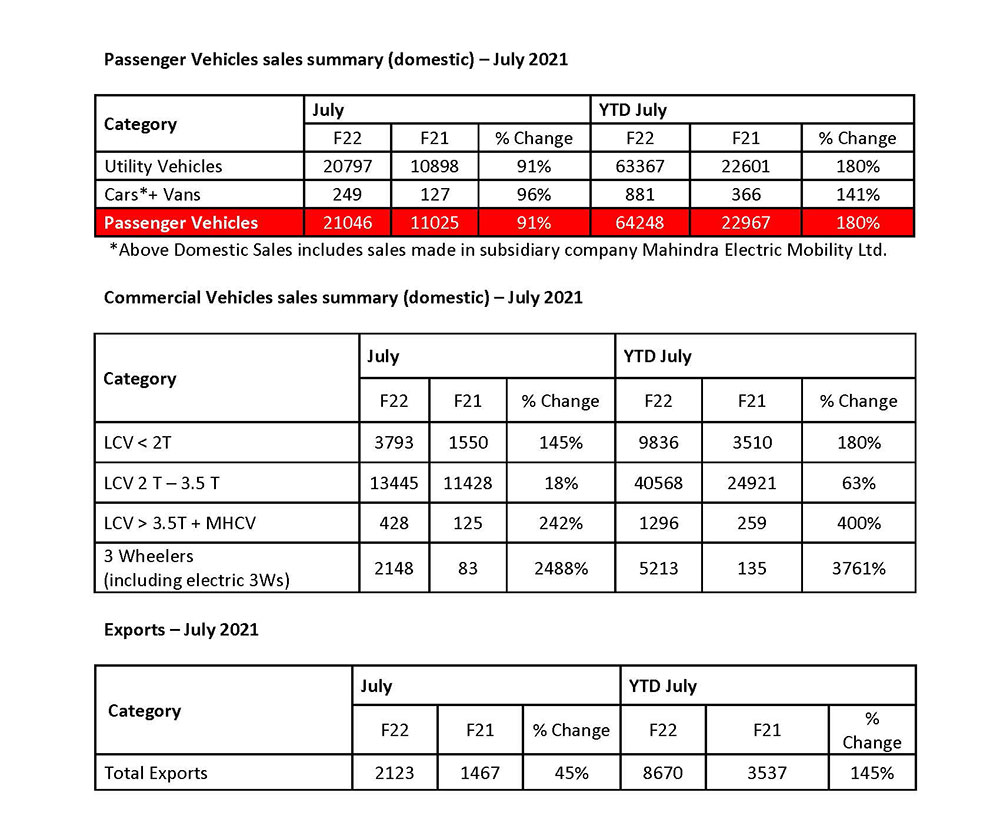 Meanwhile, the Farm Equipment Sector (FES), part of the Mahindra Group, also announced its tractor sales numbers for July 2021.
Domestic sales in July 2021 were at 25,769 units, as against 24,463 units during July 2020.
Total tractor sales (domestic + exports) during July 2021 were at 27,229 units, as against 25,402 units for the same period last year. Exports for the month stood at 1,460 units.
Commenting on the performance, Hemant Sikka, President - Farm Equipment Sector, Mahindra & Mahindra Ltd., said, "We have sold 25,769 tractors in the domestic market during July 2021 with a growth of 5 per cent over last year. Demand remained buoyant in July as crop sowing operations gained traction, with monsoon picking up pace across all the regions. The easing of Covid-19 curbs and robust farm incomes on record Rabi crop procurement has bode well for the rural economy. We continue to stay bullish on tractor demand in the coming months due to monsoon revival, hike in MSP of key Kharif crops and upcoming festival season. In the exports market, we have sold 1,460 tractors with a growth of 55 per cent."

Enjoyed this story?
Hit the
Like
button to let us know!
You can also share your thoughts in the
Comments
section below!
On National Engineers' Day (September 15), celebrating innovation and sustainability, which engineering challenge do you think is most important to address worldwide?