Prev Story
Next Story
Mahindra has always built new businesses that meet India's evolving needs. The Group, time and again, has launched new companies that have helped transform the country by accelerating its development and providing crucial employment opportunities for the masses. It has a long history of propagating innovations and remaining a steadfast partner in India's growth story. Some examples of this business philosophy are-
Mahindra Logistics, which is India's largest 3PL solutions provider specialising in supply chain management and enterprise mobility.
Mahindra First Choice Wheels and Mahindra First Choice Services are India's first and largest organized players in multi-brand resale and vehicle services.
Mahindra also has investments in Porter, Zoomcar and Meru, disruptors and game changers in the mobility segment.
Bringing together these pioneering businesses, the Mobility Services Sector (MSS) was created to enhance focus, synergize, and grow exponentially.
"The Mobility Services Sector has a huge potential for growth in India, especially logistics. We believe that along with Auto, Farm, IT and Finance which have become strong businesses today, MSS will grow to become the fifth largest business in the next five years," said Dr Anish Shah, Deputy Managing Director and Group CFO, Mahindra Group, at this week's GCO Townhall which had a focus on the MSS.
The purpose of the sector is: 'Transforming India by connecting people, places and assets' with a '20 by 25' aspiration to become a Rs 20,000 crore business (by value) by 2025. The sector comprises three key verticals – Transport as a Solution (TaaS), Vehicles as a Solution (VaaS) and Mobility as a Solution (MaaS).
"MSS in a way mirrors the philosophy of Atmanirbhar Bharat and predates it. It aims to create mobility businesses in a futuristic landscape," stated Mr V S Parthasarathy, President, Mobility Services Sector, Mahindra Group. "Our sunrise sector houses two of the nine potential billion-dollar businesses identified by the Mahindra Group. The sector has tremendous potential for growth and will play a critical role in Mahindra's growth story."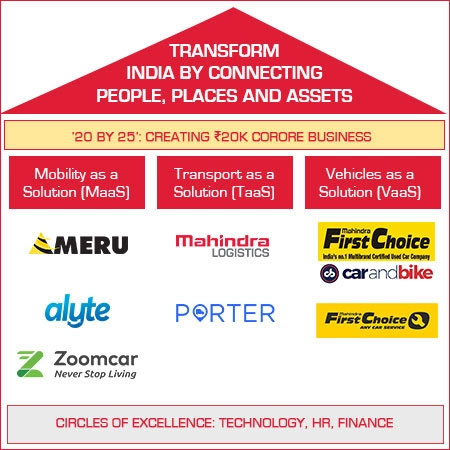 MSS includes a range of businesses that provide innovative, technology-driven solutions for the efficient movement of people and goods across India. In addition, MSS is the incubation platform and growth driver for future investments by the Mahindra Group in technology-driven mobility companies, with the vision of co-creating the 'Future of Mobility'.
Though MSS, like other businesses, faced challenges due to the Covid-19 pandemic, two of the MSS businesses – Logistics and First Choice Wheels – have regained their pre COVID-19 performance levels. "We have come out ahead despite these COVID-19 times," Mr Parthasarathy added.
Mahindra Logistics also played a vital part in the Mahindra Group's COVID-19 relief efforts. Alyte deployed 300 vehicles that provided free emergency cab services to over 1,000 people affected by the COVID-19 pandemic across 8 cities.
Enjoyed this story?
Hit the
Like
button to let us know!
You can also share your thoughts in the
Comments
section below!