Prev Story
Next Story
The Mahindra Group has a strong heritage of championing sustainable business practices. The Group's responsibility towards the environment remains one of its top priorities across all its businesses and other initiatives. From cleaner engines, to ensuring sustainable operations at its channel partners, Mahindra is working towards making the world a greener, cleaner and a better place to live in.
The COVID-19 crisis has brought into sharp focus the need for businesses to "build back in a way that protects us from growing systemic risks, future pandemics, or from other risks such as air pollution and climate change", according to Anirban Ghosh, the Group's Chief Sustainability Officer. "We can choose to reboot the economy in a way that leads us towards a point of no return - unchecked climate change - or we can choose a pathway that leads us to a thriving, healthy economy. Supporting, incentivizing and investing in carbon-neutral industries, processes, innovations and approaches of the future is surely the only way to go."
In addition to the business focus on sustainability, the Group Sustainability and Group CSR teams organised the Environment Awareness Week from June 1 - 5 to increase awareness and inspire individual action across the Group. Fun, easy-to-do environment-friendly tasks were shared with employees, to educate them about the need to build a greener tomorrow, as a part of the World Environment Day celebrations.
From the 'share and tell' activity, to watching a film by the WWF on biodiversity, and calculating your carbon footprint, to a sustainable fashion initiative and creating useful, interesting things out of waste, the activities were high on the fun quotient while also building awareness. Employees were asked to document their participation through fun photos or videos and post them on their social media channels, while also challenging one or more of their colleagues to perform the same task.
Individuals from across the Mahindra Group posted on their Twitter and Facebook handles, photos of their creative DIY projects, their upcycled clothes, and some even posted photos with members of their family while watching the WWF documentary featuring Anand Mahindra, that was shared as task one.
Employees were also encouraged to download the new Sustainability App and to take the Mahindra Sustainability Quiz. To make the tasks more exciting, three interesting hashtags were used: #ForNature #NatuREsolution, and #RiseForGood.
In Service of Nature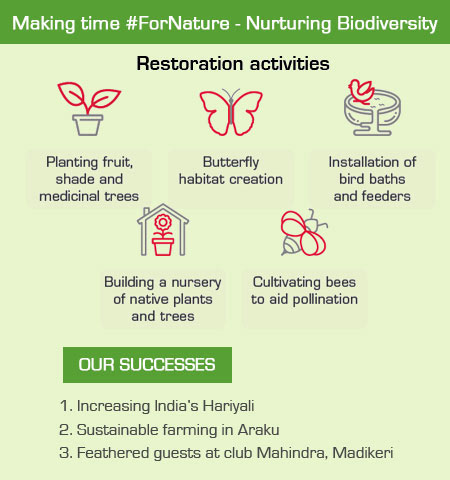 This World Environment Day, Mahindra strengthened its commitment to a greener world through the announcement of a unique new initiative. The Group will plant a tree for every automotive service that customers avail of using the 'With You Hamesha' app for the next 30 days starting June 5. This initiative is part of Project Hariyali with the new trees being planted in Araku Valley as soon as the lockdown is lifted.
This is the latest among Mahindra's range of Sustainability initiatives which cover a wide spectrum. The Group has been a frontrunner in digitally transforming customers' automobile service experience with its after-sales digital platform 'With You Hamesha'. The company's digitised contactless service assures safety and convenience for customers, in addition to saving paper that was earlier used for printing in service centers, by 40%.
Enjoyed this story?
Hit the
Like
button to let us know!
You can also share your thoughts in the
Comments
section below!
On National Engineers' Day (September 15), celebrating innovation and sustainability, which engineering challenge do you think is most important to address worldwide?