Prev Story
Next Story
The Mahindra Group, a steadfast partner in India's growth and transformation, has launched Mahindra University (MU) with a view to reshaping the country's education sector. Underscoring the importance of the new Mahindra venture, Anand Mahindra, Chairman, Mahindra Group, and Chancellor, Mahindra University, said, "High quality education has transformative powers for individuals and nations, alike. Mahindra University will strive to deliver a more balanced education, combining the latest technology with Liberal Arts, to create next generation leaders that have a holistic world view."
The University was launched virtually by KT Rama Rao, Minister for Information Technology, Telangana. Along with Mr Mahindra; CP Gurnani, CEO & MD, Tech Mahindra, and Board Member, Mahindra University; Vineet Nayyar, Chairman, Mahindra Educational Institutions (MEI); Prof Yajulu Medury, Vice-Chancellor, Mahindra University; and Chitra Ramachandran, Special Chief Secretary (Education), Government of Telangana, also took part in the virtual launch.
The sprawling 130-acre multi-disciplinary campus in Hyderabad, Telangana, will offer undergraduate, post graduate and PhD courses with the aim of enabling the holistic development of students, combining both emotional intelligence and artificial intelligence paradigms.
MU is a significant milestone in the Mahindra Group's efforts to transform the country's higher education sector which began with the launch of the Mahindra Ecole Centrale College of Engineering in 2014. Part of the Mahindra Educational Institutions (MEI), a not-for-profit subsidiary of Tech Mahindra, MU operates as an autonomous university.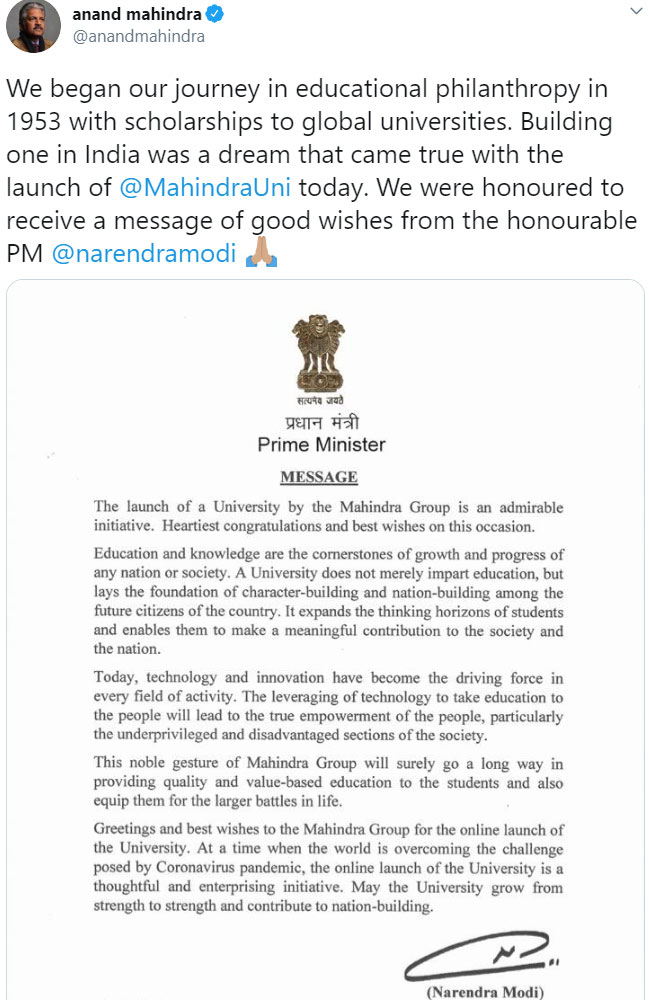 Speaking on the occasion, Mr Rao said: "Mahindra University, supported by the prestigious Mahindra Group will surely address the growing demand for future-ready talent." The minister's views were echoed by Mr Nayyar, who said, "Mahindra University will be a key enabler in providing a holistic educational and learning experience that involves analytical and design-led thinking, quantitative and creative problem-solving skills and a passion for innovation and entrepreneurship."
Stressing on the foundational philosophy of MU, Mr Gurnani said, "The Mahindra University is a testimony of our commitment towards bridging the skill gap and creating global leaders that are willing to change, adapt and transform according to dynamic market needs and business environment."
According to Prof Medury, MU will revolutionize the education environment for the country's future workforce as it is designed to be a holistic learning platform for the students.
MU's mission is to develop multi-skilled leaders who can both reflect and innovate, while being both empathetic and ethical. The University will drive interdisciplinary academic excellence as it integrates the study of Science and Technology with Humanities, Ethics & Philosophy and Design. The Minerva Fund – Mahindra University Scholarship Program has also been instituted to ensure deserving students have access to quality education.
Enjoyed this story?
Hit the
Like
button to let us know!
You can also share your thoughts in the
Comments
section below!