Prev Story
Next Story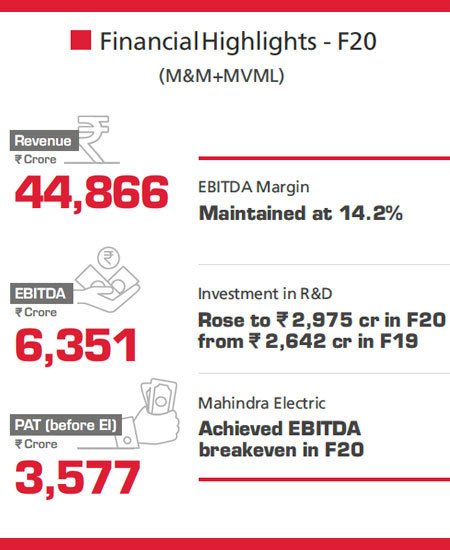 Mahindra & Mahindra released its Integrated Annual Report 2020 at its 74th Annual General Meeting. The report collates a holistic picture of the company's prospects, covering strategy, governance, performance and forecasts. Integrated reports are broader in scope than the information that is offered in traditional financials focussed annual reports. The Integrated Annual Report conforms to the framework for Integrated Reporting (IR) created to help organisations bring diverse value creating elements together.
The Spirit of Rise
At M&M, the spirit of Rise has been built into the company's systems over the years. This spirit defines all activities at the Group and acquires special prominence during times of crises. This resilience of Rise empowers the Group to not only resist shocks but also recoup from them and deliver results.
This is M&M's second annual report that covers six capitals which help drive value creation for all the company's stakeholders:
1. Financial
2. Marketing
3. Intellectual
4. Human
5. Natural
6. Social & Relationships
The annual report also highlights performance milestones and achievements. In our upcoming issues, we continue to shed light on the various facets of the IAR.
Enjoyed this story?
Hit the
Like
button to let us know!
You can also share your thoughts in the
Comments
section below!